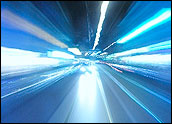 Intel and Micron Technology have developed a high-speed NAND flash memory technology the two said is five times faster than conventional NAND.
The technology, jointly developed by the two companies as part of their IM Flash Technologies joint venture, will allow data to be transferred faster for computing, video, photography and other applications, the technology partners said Friday.
"At up to five times the performance over conventional NAND, the high speed NAND from Intel and Micron, based on the ONFi 2.0 industry standard, will enable new embedded solutions and removable solutions that take advantage of high-performance system interfaces, including PCIe (PCI Express) and upcoming standards such as USB 3.0," said Pete Hazen, director of marketing for Intel NAND Products Group.
Flash Speedway
The new 8 GB single-level cell (SLC) high-speed NAND can read data at speeds as great as 200 MB per second and can write data at up to half that speed, 100 MB per second. Designed on the 50-nanometer process node, the new technology was achieved using new Open NAND Flash Interface (OFNI) 2.0 specifications as well as a four plane architecture with higher clock speeds, according to Micron.
Conventional SLC NAND offers significantly lower read and write speeds: 40 MB per second for reading data and less than 20 MB per second for writing data.
"As more and more of today's popular consumer electronic and computing devices continue to move to silicon for storage, it is essential that we improve how data is accessed and transferred in NAND," said Bill Lauer, senior director of marketing for Micron's memory group. "With the new capabilities designed into high speed NAND, the performance benefits will be visible to the consumer, allowing them to experience a faster way of transferring digital content between devices such as computers, digital cameras, MP3 players and cell phones."
Micron is sampling the high-speed NAND component with major OEMs (original equipment manufacturers) and controller manufacturers. It hopes to see mass production in the second half of this year.
"This is a necessary evolutionary change in an effort to have greater appeal to demand drivers which need better performance," Joseph Unsworth, a Gartner analyst, told TechNewsWorld. "Since NAND is a commodity, this is also a means to provide a differentiating strategy by providing greater value, through performance, in order to gain a premium and better margins."
Consumer Impact
Better performance from NAND flash memory is initially targeted at solid-state drives (SSD), computing applications, video and tools for advanced photographers — in other words, pricey devices and applications used by professionals. Further down the road, however, consumers would see the technology used in digital media players and could even mean a faster iPod from Apple.
"It could because it is faster, but [the iPod] will come with a higher price. Keep in mind that the iPods are based on MLC (mult-level cell) NAND flash, and the announcement refers to SLC NAND flash with a road map to MLC later," he explained.
For consumers, the speedier technology will boost performance in many of today's most popular devices, according to Micron. Used in a hybrid hard drive, high-speed NAND can allow the system to read and write data between two and four times the speed of conventional hard drives. It can also boost transfer speeds for a high-definition movie by a factor of five compared to traditional NAND.
When combined with the upcoming USB 3.0 interface, the new technology is expected to deliver on the increased data transfer rates of the new specification, which aims for 10 times the bandwidth of the current USB 2.0 solutions, achieving 4.8 gigabits per second. Traditional NAND would "act as a bottleneck in system performance," Micron said.
Enterprise Impact
The peppier NAND flash memory speeds will also be a boon for enterprises, said Andrew Reichman, a Forrester Research analyst. He does not see the technology having a huge impact on consumer devices.
"What this does is, it makes flash more competitive in terms of capacity, capability and access time with DDR RAM (double data rate synchronous dynamic random access memory). Whereas flash is much less expensive and has less requirements for battery backup — it's more persistent. Flash seems to be emerging as a more enterprise-capable technology, whereas before solid-state options really looked more at the DDR RAM," he explained.
"Maybe syncing your iPod will go faster — big deal as far as I'm concerned. What's more interesting is that now flash becomes more competitive with DDR RAM for super high-performance enterprise applications, where you're considering using solid-state disks and performance really does matter. This will have a bigger impact on the enterprise than the consumer," Reichman said.
The technology has the potential to shift the enterprise focus away from the more expensive DDR and to the lower-cost flash drives. The lower cost point will allow enterprises to use more of the NAND flash drives, assuming it performs as well as DDR drives.
"If performance is the limiting factor with flash, then this would allow you to use more flash and therefore lower the cost of delivering on it. If this announcement means that flash will be as high performing as DDR, then this could reduce the cost of deploying solid-state disks in the enterprise," he noted.