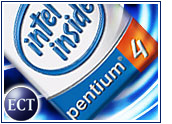 Laying the groundwork for the next generation of computer microprocessors that will push clock speeds higher, Intel has released new Pentium 4 desktop chips — code-named "Prescott" — that promise improved performance for both consumer and business users.
Intel said the desktop processors are the result of manufacturing technologies based on the new 90-nanometer fabrication process and high-speed copper interconnects. However, in initial benchmark testing, the new Prescott desktop chips reportedly failed to outperform their predecessor Northwood chips and AMD's rival Athlon64.
Nevertheless, industry analysts downplayed Prescott's benchmark results and indicated that as Intel ramps up processor clock speeds, which was becoming increasingly difficult with its previous chip architecture, the new chips will pave the way for the future.
"We always see this when architecture changes this much," Gartner research director Martin Reynolds told TechNewsWorld, regarding Prescott losing out on initial benchmark results. "It may start off slow, but as clock speeds draw up, it should surpass its predecessors."
Built for New Features
Reynolds said Prescott, released in the form of four new desktop processors from Intel, represents three years' worth of clock speed increases for the company. He also said the new chip will pave the way for several new features, including improved multimedia capabilities, security enhancements and possibly 64-bit capabilities.
"Everything Intel wants to introduce in the next three years will probably be seeded in Prescott," Reynolds said. "It's really a new platform for bringing new features to the market."
He added that consumers will benefit from improved video editing and multimedia capabilities with Prescott, while enterprise users will see improved reliability and security.
Looking Ahead
Meta Group vice president Steve Kleynhans told TechNewsWorld that the new manufacturing process associated with Prescott will let Intel reduce the cost of making processors for the mainstream market.
"It allows them to bring down price and be more aggressive with the ongoing battles with AMD," Kleynhans said. "They can either raise their margins or use it as a competitive weapon."
While he said Prescott might not represent a major change for computing, the new chip does lay the groundwork for future technologies, such as the planned Grantsdale chipset from Intel.
"They've made changes to the architecture that allow them to take the Pentium 4 and start scaling up frequencies again," Kleynhans said. "I think you'll see them move rapidly through the gigahertz this year."
Responding to Today
Intel said the new desktop chips, which feature hyperthreading technology for multitasking and a large 1-MB cache, will provide a better computing experience by remaining responsive even while working on background tasks.
"This new manufacturing technology, along with numerous architectural enhancements, enable us to continue delivering products that allow end users to interact with a wide variety of digital devices," said Bill Siu, Intel vice president and general manager of the desktop platforms group. "These processors provide improved responsiveness for today's corporate and home applications, and offer headroom for the next wave of technologies."
Kleynhans said Prescott likely will help usher in new computing technologies, such as improved audio capabilities and, eventually, smaller desktop PCs.
Benchmark-Based Issues
While it is not uncommon to see new, architecturally different chips outperformed by their predecessors when first launched, Kleynhans said the reported benchmark results on Prescott indicate there could be issues with pushing clock speeds higher without prioritizing power consumption and heat dissipation requirements.
"This is going to become a much bigger issue with subsequent generations of chips," he said, indicating that Intel might be better off with the approach it used for the Pentium M, a more efficient, mobile chip that the company basically built from scratch.
"As we look further into the future, in a generation or two, desktop processors are probably going to look a lot more like a Pentium M than a Pentium 4," Kleynhans said.