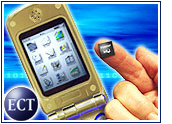 Leveraging new wireless network technology that will more than double data rates in mobile phones, Intel has developed a single-chip processor for the next generation of mobile networks, called Enhanced Data Rates for GSM Evolution (EDGE).
The chip, the Intel PXA800EF, is the industry's first single-chip EDGE processor. It combines handheld-computer and mobile-phone components to enable new data capabilities and longer battery life, according to the Santa Clara, California-based chip giant.
Analysts called the chip "significant" and said that, with the emerging EDGE network technology, it will serve as a competitor to CDMA 2000 1x networks, which are more expensive to deploy.
"What it does is it enables data throughput speeds that are comparable to [CDMA 2000 1x]," Yankee Group analyst John Jackson told TechNewsWorld. "It is a means of enhancing GSM/GPRS data throughput speeds while avoiding the more capital-intensive migration to wideband CDMA."
Built for Speed
Intel called the chip — built with the same design as its GSM/GPRS product announced earlier this year — the latest of its "Wireless Internet on a Chip" technology and said its use in EDGE networks will allow mobile phones to send and receive data two or three times faster than existing GSM/GPRS networks.
Gartner principal analyst Tole Hart told TechNewsWorld that real data throughput rates for GPRS networks are at about 20 to 40 kilobits per second, while the EDGE network will offer speeds in the range of 80 to 100 kbps, and maybe as high as 115 kbps in some cases.
Hart said demand for the chip is based on the need for a competitor to CDMA 2000 1x technology, which has had a great deal of success with carriers such as Sprint and Verizon.
Processor Packed
Intel, which made software modifications and increased communications processing speed for the EDGE chip, combines a low-power, 312-MHz processor, 4 MB of integrated Flash memory and 512 KB of SRAM on the processor.
It also includes a 156-MHz signal processor with 512 KB of integrated, on-chip flash memory and 64 KB of SRAM to deliver a "complete system on a single chip for advanced EDGE cellular networks," Intel said.
Intel vice president of PCA Components Group Hans Geyer said the chip demonstrates Intel's ability to support multiple cellular networks on a single piece of silicon. "This enables phone makers to develop a range of phones using a single platform design, offering leading performance and connectivity from entry-level GSM/GPRS to faster EDGE cellular networks," he said in a statement.
Carriers Buy Time
Jackson said that with carriers such as AT&T obliged to upgrade their networks to faster speeds and better technologies, EDGE technology can serve as a less-expensive stepping stone in the meantime.
Hart, who said the faster data rates will speed e-mail, games and general laptop-type use in mobile phones, predicted the first city rollout of an EDGE network within weeks and said the majority of networks likely will be rolled out by carriers in the next six months.
"These companies are going with EDGE because GPRS is not that fast and they need a competing product to CDMA 2000 1x," he said. "And it buys them some time before they have to introduce UMTS and still keeps their data plans alive."
Back on the Edge
Jackson said Intel's EDGE chip launch is significant because silicon for the faster network technology was the one element missing from widespread EDGE deployment.
Work by Intel, Broadcom and Analog Devices, as well as noncommercial EDGE technology from Texas Instruments and Motorola, have breathed new life into EDGE networks, according to Jackson, who said the networks will be deployed primarily in North America.
"In the last eight or nine months, it's become clear that EDGE deployment in the Unites States will take place sooner and persist longer than people anticipated," Jackson said.