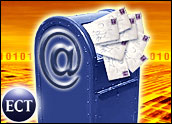 Major ISPs — including Microsoft and Yahoo — have indicated interest in an e-mail "stamp" approach that would charge bulk e-mailers 1 U.S. cent for each piece of e-mail in an effort to differentiate legitimate e-mail marketing from spam.
However, critics of the stamp approach — which, in theory, is similar to the approach used by postal services around the world — say it violates the free spirit of the Internet and might lead to rising, postage-like fees for all e-mailers, including consumers.
The approach — which likely would take the form of electronic watermarks to authenticate correspondence and ensure e-mail marketers are not spamming — was mentioned recently by Microsoft chief Bill Gates and also is being considered by Yahoo as a means to cut down on spam. But some analysts have said they doubt the effectiveness of the approach because of the dynamic and diverse nature of the Internet.
"The intent for all of these [postal techniques] is to validate the authenticity of the sending [Internet Protocol] address," Gartner research director Maurene Caplan Grey told TechNewsWorld. "In absence of everyone in the world participating, it's not going to help."
Paying Postage, Slicing Spam
Goodmail Systems, in discussions to use its technology with Yahoo and other major ISPs, outlined a system whereby senders of volume e-mail would attach paid digital stamps to their outgoing messages. The encrypted stamps would verify the sender's identity and require e-mailers to honor requests to unsubscribe.
The company, with a motto of "restoring trust in e-mail," says that in return for the postage, ISPs ensure safe passage of the e-mail to recipients.
Goodmail claims its approach will benefit consumers by reducing the amount of spam they receive and ensuring safe passage of legit newsletters and other correspondence. The company argues the approach also will benefit ISPs, which would not have to undertake other antispam efforts, and legitimate mass-mailers, which would no longer see their communications blocked as spam.
Internet Ownership
Gartner's Caplan Grey said the same thing that has made spam such a huge issue for both companies and consumers — the fact that no one owns the Internet and e-mail traffic therefore cannot be regulated — would prevent the effectiveness of e-mail postage.
"If everybody belongs to the same regulating authority, it would be just fine," she said. "But nobody owns the Internet."
Caplan Grey, who said reciprocal agreements among the Internet's major service providers would be more effective than a stamp method, argued that the various sender-verification approaches from companies such as Goodmail, IronPort and Habeas are not truly aimed at spammers but at legitimate e-mail marketers that want to ensure their messages are not blocked as spam.
"A spammer is not going to participate in any of these," the analyst said. "Why would they?"
Not the Post Office
Basex chief analyst Jonathan Spira, whose research firm blamed spam for US$20 billion in lost productivity and other costs last year, criticized the proposed "postalization" of the Internet for the costs it would introduce to ordinary e-mailers.
"And, of course, it's against the free spirit of the Internet," Spira said. "I'll be damned if I'm going to pay postage for sending our newsletter to 10,000 people. We're already paying for the infrastructure," he added, referring to ISP, hosting and network costs.
Spira said the e-mail postage approach is predicated on the idea that spammers and e-mail senders will not act without considering the costs, but he added that the approach amounts to taxation without representation and likely would cause a "virtual Boston Tea Party."
"The beauty of the Internet is that it's not comparable to any other medium," Spira said. "So trying to pigeonhole it as some other medium is a crying shame."