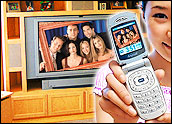 Japanese hipsters are about to gain access to TV to go with mobile handsets capable of displaying digital television broadcasts. One Seg, a service that launched in South Korea last year, will supply regular broadcast TV offerings.
Backers of the service — which includeNTT DoCoMo, rivalKDDI and Japanese television companies — say it will become more significant when it begins offering programming designed specifically for mobile devices, as well as location-specific content.
World Tuning In
Just as in the U.S. — where the mobile video craze is already picking up steam with Apple's iPod video and TV programs offered on iTunes — mobile carriers and content owners are experimenting with video-to-go formats and content offerings. The Japan-wide One Seg service will roll out free while operators get a sense of the market and demand for it.
The service brings together Japan's mobile phone giants and TV producers such as Nippon, Fuji and Asahi TV, but industry observers say it will take more than regular TV on handsets to succeed.
Something of Value
In Japan, greater Asia and Europe, as well as in North America, it is still unclear as to what specific types of content will play best with mobile TV consumers. However, it is unlikely that the same programming already available on regular TV is going to cut it, Yankee Group Senior Analyst Mike Goodman told TechNewsWorld.
"Why do I want to pay on my mobile device when it's a smaller screen, the experience isn't as good, and I can get it somewhere else?" Goodman asked. "You've got to give somebody something of value."
Lack of compelling content is to blame for the lackluster results of Verizon's (NYSE: V) V Cast, a fee-based service that delivers video to Verizon's mobile phone customers, Goodman maintained.
Content Is King
At the same time, television has been among the world's most successful media for the last 50 years, Ovum Vice President of Wireless Telecoms Roger Entner told TechNewsWorld.
Compelling content will be the key to success for mobile TV, he agreed, adding that in the U.S., much of the video offerings available currently are limited to clips.
Mobile TV is still very new, however, and technology as well as content is expected to improve, Entner added.
"We're at version 1.0 here," he said.