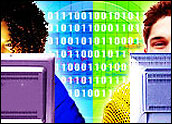 Microsoft did it with the operating system, and now a newer company called JotSpot is trying to leverage ease-of-use and a friendly interface to popularize wikis, collaboration sites that allow for multiple editors and contributors.
JotSpot said its JotSpot 2.0 wiki application platform takes wikis — named after the Hawaiian expression "hurry quick," and popular for Internet collaboration among software programmers and other professionals — to a wider audience with Web page "types," calendars, spreadsheets, and other familiar, Microsoft Office-like online documents.
"Traditional wikis are too nerdy and only offer one type of collaboration," said JotSpot co-founder and CEO Joe Kraus. "This has been a barrier to the mainstream adoption of wikis."
Nixing the Nerd
Founded by Kraus and Graham Spencer, who co-founded Excite.com more than a decade ago, JotSpot claims it is eliminating the nerd factor for wikis and re-defining them to improve upon their collaborative look and feel.
JotSpot 2.0 also increases wiki ease-of-use with pre-defined page types that facilitate the creation of collaborative calendars, spreadsheets and other shared site elements, including colors and logos. The JotSpot wiki software, which some say creates sites that are well beyond what has traditionally been considered a wiki, also offers site functionality tools, including a "link picker" that eases creation of links on wiki pages without coding, and a permissions model that renders wiki pages private, public or a combination of the two.
"When users go to the JotSpot wiki, they can simply click 'create new page' and instantly create a spreadsheet, a corporate intranet and other collaborative wikis," said JotSpot Vice President of Products Scott Johnston.
Fitting In
In addition to its pre-defined wiki pages and capability enhancements, JotSpot said its software also brings the familiarity and functionality of Microsoft Office-like desktop applications to the wiki platform.
"They're not trying to be different anymore, they're trying to fit right in with the models people are familiar with," Burton Group Research Director Peter O'Kelly told TechNewsWorld.
He added that while the wikis of a few years ago required users who wanted to learn to master them, JotSpot should offer mainstream users "the final 2 to 5 percent" of conventional Web page creation experience wikis had been lacking.
Welcomed by Workers
Wikis are already fairly easy to deploy and are a good collaboration alternative for organizations that cannot afford larger enterprise collaboration suites, Basex CEO and Chief Analyst Jonathan Spira told TechNewsWorld.
However, wikis remain scary to some users and to IT shops because they are democratic, Spira added.
Still, he indicated that anything that makes wikis easier to use will help the collaboration technology move closer to the mainstream.
"Certainly, it represents a passing from something only an engineer would love to something welcome among a larger group of knowledge workers," he said.
JotSpot 2.0 is available for download free for as many as five users and 10 wiki pages. The software for 10 users and as many as 100 wiki pages is US$.9.95 per month, and larger packages are available for up to a $200 per month for unlimited users and pages.