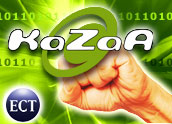 Moving beyond media downloads, leading peer-to-peer (P2P) file-sharing company Kazaa, is now offering free, Internet-based telephone service via the Skype voice over Internet protocol (VoIP) application.
Perhaps the highest-profile P2P purveyor and a favorite target of intellectual property owners such as the Recording Industry Association of America (RIAA), Kazaa parent company Sharman Networks announced the new telephony service with its Kazaa version 3.0 this week.
Calling it "a future vision of P2P," Sharman said Kazaa version 3.0 also features advanced search capabilities and a free Web log trial, but the biggest new offering was the free telephone service, which Kazaa claims will allow Internet calls around the globe.
The telephony will be limited to computer-to-computer calls using the Kazaa P2P application, Skype and the Internet, Sharman spokesperson Richard Chernela told TechNewsWorld. The two technologies complement each other, analysts said, because VoIP is basically a form of P2P. There is also synergy among the two companies, as both Kazaa and Skype were founded by Niklas Zennstrom and Janus Friis.
Natural Extension
Sharman Networks CEO Nikki Hemming said the P2P-based voice service represented a "new frontier" in P2P communication. "The inclusion of Skype is a natural extension of the Kazaa product and of peer-to-peer," Hemming said in a statement.
Claiming more than 300 million downloads of its software, Kazaa also said that the VoIP service demonstrated the potential for legitimate communications over P2P.
"Despite narrow-minded attempts by others to stymie P2P technology through litigation, boycotts and legislation, Sharman Networks remains committed to delivering on the promise of peer-to-peer," Hemming said.
Although it has faced legal resistance to its music and movie downloads, Kazaa is less likely to come under fire for its Internet telephony, which does not involve copyrighted material. Instead, the VoIP service from Kazaa is more likely something the telephone and carrier industry will want to emulate with their own P2P-based calling, Yankee Group analyst Boyd Peterson told TechNewsWorld.
Peterson said with most carriers investing in data and broadband networks that will be capable of the same kind of P2P phone service, as opposed to aging circuit-switch telephone networks, it is only a matter of time before all calls are carried over the Internet.
Logical and Licensed
However, Peterson said that while the use of the Internet may reduce the cost of the transmission network for operators, there are access charges, taxes and other costs associated with calling that will not change.
"If the cost of the network goes to zero, it doesn't mean the cost to provide [telephone service] is anything less," Peterson said.
Nevertheless, Peterson indicated that VoIP is a logical use of P2P since both forms of networking have the same technological basis.
"It's basically the same underlying architecture," he said. "Phone networks are really peer-to-peer anyway. It's easy to understand how Skype came out of Kazaa."
Peterson added that while major carriers may not be coming after Kazaa for its VoIP offering, the issue of bandwidth and the network stress of unprofitable P2P users remains a concern for providers. Traditional phone companies are still likely to make similar, IP-based offerings, including video and Internet access, but with only licensed and legal content, according to Peterson.
"When [traditional carriers] get into content delivery, they will do it with [digital rights management] built in," he said.