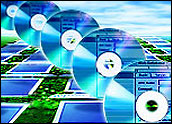 In yet another sign that the Hollywood studios are getting more comfortable with the idea of digital distribution for films, the DVD Copy Control Association (CCA) announced changes to the industry's encryption system which will allow some legitimate movie DVD burning.
DVD burning capabilities are already offered legally from some services, but the titles available are extremely limited. The DVD CCA's new version of its Content Scramble System (CSS) would allow burning of movies to special blank discs, at first via in-store kiosks through a variety of retailers. The system will allow users to search, locate, download and rip DVD video from a substantial selection of newer movies and more obscure content, including historical and other video unavailable on retail DVDs.
Logical, Legal Step
The changes to CSS, which was cracked soon after it was introduced in the infamous "DVD Jon" case, are the latest step toward widespread digital distribution of films and other video content.
Other steps came earlier this summer, when online movie services Movielink and CinemaNow announced DVD burning capabilities for a limited number of films thanks to content controls and support from movie studios.
The DVD CCA said its new technology, which requires special blank DVD discs and hardware, would at first be available in commercial kiosks that allow users to burn customized discs. The group said consumer applications of the new recording function are also expected. These will include technologies to offer DVD burning on PCs, or recording among networked DVD recorders.
"The creation of new ways to legally create secure DVD content is the logical next step to answer industry and consumer demand for additional legal digital distribution alternatives," Cookson said.
In Stores Now
The changes to CSS are an important development, but are not that significant considering the technology's limitations, in particular the present lack of special DVD discs and hardware it requires, Gartner Research Vice President Van Baker told TechNewsWorld.
"That's another thing that's going to be a huge limiting factor," Baker said, also referring to the reluctance of some customers to download and burn DVDs that may be readily available at retail stores.
However, Baker said the CSS changes reflect the movie industry's recognition that media and distribution are changing and fragmenting as technology advances.
"They're finally at the point where they are accepting of that and willing to experiment," he said.
Burning Stations
While it will take some time for movie downloading and burning to make its way into the mainstream and into the average household, the kiosk concept may have significant appeal for consumers. The services will allow them to more easily find what they are looking for via electronic search, and store owners may see an upsurge in customer visits as more people come in to use the service, according to Baker.
"There could be activity in that space immediately," he said.
The CSS changes may help online movie companies, including NetFlix, meet high demand for hot new releases.
"It could help their business model," Baker said.