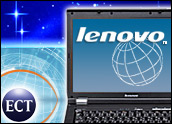 Lenovo's going big with its latest laptop offering, the 17-inch W700 ThinkPad Workstation. The 8.3-lb. machine boasts a high-resolution WUXGA display and a host of powerful features to boot.
The W700 — starting at US$3,500 — is without doubt targeted at engineers and other users who need high-performance hardware and displays. It opens up a new kind of market for Lenovo and a handful of new ideas for the laptop industry on the whole.
Packing In the Power
The new ThinkPad is one of the first portable computers to be built with the Intel Core 2 Quad-Core Extreme processor. It can handle up to 8 GB of DDR3 memory and up to 1 GB of video memory. The system also offers the option for dual hard drives, presumably geared toward those partaking in data-heavy tasks such as video editing.
Basic hardware aside, though, the W700 integrates some other unique concepts. First, it has a built-in palm rest digitizer — a large touchpad of sorts, measuring 120 by 80 centimeters — that lets users manipulate data with a digitized pen. It also has a color calibrator, located directly above the pad. The three sensors can adjust the display quickly and accurately using Pantone's hueyPro software.
"It's typically something [users] would have to go buy separately," Tom Ribble , Lenovo's director of worldwide ThinkPad product marketing, told TechNewsWorld. "It's a very, very unique feature, and an industry first."
The W700 also has an optional Blu-ray Disc burner and a wide range of connectivity port options, including both DVI and VGA output as well as DisplayPort and eSATA.
Targeted Technology
Make no mistake: Lenovo is not going after everyone with the W700. The company knows this new model won't appeal to the masses — but it also knows it will appeal to a very specific subset of people.
"It definitely addresses customers who may be in the engineering world," Ribble explained. "Also digital content creation people, photography, videomakers, moviemakers — someone that needs a lot of performance [and] wants a lot of innovation and graphics," he said.
There may, however, be another less corporate type of user who may migrate toward the technology: the gamer.
"You've got kind of a power user that wants more screen real estate, and they want the kind of capabilities that you can get with that," Roger Kay, president of Endpoint Technologies Associates, told TechNewsWorld.
"It's generally a beefed-up kind of a system. That appeals to these power users. The commercial end of that is really the workstation guys. The consumer version of that is gamers," he noted.
An Emerging Trend
The introduction of the amped-up laptop is just the start of an emerging trend in the computing world. Lenovo hopes to stay ahead of the curve, and not just with this particular release.
"We feel like mobile workstation customers are out there and it's a growing marketplace," Lenovo's Ribble commented. "Workstation in general is something we're going to go after."
Competitively speaking, expanding its product line to the high-performance market may prove lucrative — and other companies may soon follow suit.
"It broadens their line — I think that's important," Kay pointed out. "When you're competing, you need to be able to present a product line that covers the waterfront in a way that demonstrates that you're a viable player in multiple segments. I think that's what it does — it fills out their line," he said.
That's something Lenovo hopes will prove true. And while the company is certainly aiming big, its representatives are quick to point out that size is all relative.
"[The W700] is quite small, given all the things that are integrated in it," Ribble said.