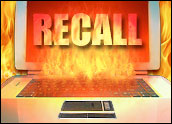 China-based computer maker Lenovo said Wednesday that it would recall more than 200,000 batteries manufactured by Sanyo and sold in its ThinkPad computers, including 100,000 sold in the United States.
The recall covers ThinkPad machines sold between February 2005 and September 2006, spanning the time when Lenovo took over the production of ThinkPads and other PCs from IBM. The Lenovo takeover of the IBM PC line was finalized in May 2005, when regulators finally cleared the US$1.25 billion deal.
The recalled nine-cell lithium-ion batteries were manufactured by Sanyo, which is helping Lenovo fund the recall cost. The batteries were sold as replacement and backup batteries and packaged with new ThinkPad Z, T and R series models.
The new recall brings to more than 700,000 the total number of machines recalled by Lenovo since last September, when it joined Dell, Apple and a slew of other PC makers around the world in recalling similarly defective Sony-made batteries.
Potential Fire Hazard
Lenovo, which maintains a U.S. headquarters in Research Triangle Park, N.C., advised consumers to stop using the batteries immediately.
Lenovo had received five reports from ThinkPad owners who said that after their systems were dropped or handled roughly, the batteries overheated and posed a fire hazard. After consulting with the U.S. Consumer Product Safety Commission, the company initiated the recall.
ThinkPad owners should consider removing the batteries and running the systems on AC power only until a replacement battery arrives.
Damage Control
In fact, it was a Lenovo ThinkPad that caught fire inside a terminal at Los Angeles International Airport that helped spur the worldwide recall of the Sony batteries. Sony spent more than $500 million last year alone on its massive recall effort.
So far, no additional PC makers have indicated plans to order the recall of Sanyo-made batteries, and Sanyo issued a statement saying it was "working together with Lenovo" on the recall.
The cause of the battery malfunction? If you drop the ThinkPad a certain way, the battery gets damaged. "The incidents were not triggered by the battery cells themselves," Sanyo noted. "While the pack fully satisfied specifications and internal testing standards, these incidents occurred due to a strong external impact to the battery pack of a specific notebook PC model from a certain angle."
More to Come?
Lenovo saw slower growth than most of the other top five PC vendors in the fourth quarter. Except forDell, which saw its sales fall by about 9 percent, the three other major vendors — Hewlett-Packard, Acer and Toshiba — each saw growth of 24 percent or more. By comparison, Lenovo's growth was just over 9percent, Gartner analyst Martin Reynolds told TechNewsWorld.
"A lot of IBM's longtime customers were taking a wait-and-see approach," said Reynolds. "The ThinkPad is still regarded as a powerful mobile solution for businesses."
The Sony battery recall started with just a single vendor — Dell — before growing to include nearly all major PC makers after several weeks, Endpoint Technology Associates President Roger Kay told TechNewsWorld.
Sanyo and Lenovo said they were working together to improve the design of the battery casing to avoid similar problems in the future.