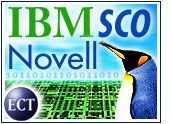 The Linux legal war increased in scope and ferocity this week as IBM coutersued SCO, which had claimed Big Blue wrongfully used SCO Unix source code in Linux. Meanwhile, the open-source community has almost unilaterally aligned against Lindon, Utah-based SCO by supporting the counterclaim.
The IBM counterclaim, which asks the courts to stop SCO from "misrepresenting its rights" and accuses SCO of patent infringement, won the support of Novell, according to an IBM e-mail obtained by TechNewsWorld.
Despite the open-source community's growing opposition to SCO's claims and call for licenses to use Linux, the company stood firm on its defense of its intellectual property rights and warned again that it might take legal action against commercial Linux users that do not purchase its license.
"SCO will remain on course to require customers to license infringing Linux implementations as a condition of further use," a company statement said. "This is the best and clearest course for customers to minimize Linux problems."
Open Opposition
IBM is only the latest player to fire back at SCO, which is suing IBM for billions of dollars. Linux distributor Red Hat also has filed suit against SCO, calling for a stop to "unsubstantiated and untrue public statements attacking Red Hat Linux and the integrity of the open-source software development process."
Red Hat also has established a US$1 million legal defense fund to help smaller firms battle SCO in court. Specifically, the "Open Source Now Fund" will cover the legal expenses of companies that choose to contest SCO's claims that enterprises running Linux also must buy UnixWare licenses to avoid legal action.
Code-Based Backlash
Companies that sell Linux products — plus nearly the entire open-source software community — have rallied around the countersuits against SCO, which has proceeded with its licensing plan for commercial Linux users.
IBM returned legal fire with patent infringement claims against SCO and touted the backing of Novell, from which Big Blue originally purchased the Unix license at the center of SCO's claims. IBM claims that its rights are irrevocable and that Novell, which is a party to the agreement under which IBM obtained the license, concurs.
"Novell … agrees that SCO cannot terminate IBM's license and has exercised its right to waive this claim," said an e-mail from IBM Systems Group vice president of sales Bob Samson.
Convenient Counterclaims
In addition to complaints that SCO has improperly claimed a right to revoke IBM's Unix license, IBM also argued that SCO has violated the GPL that covers Linux and has directly infringed on IBM patents relating to SCO's UnixWare, OpenServer, SCO Manager and Reliant clustering software.
In response to IBM's countersuit, filed in federal court in Utah, SCO argued that the products in question have been shipped for many years, "in some cases for nearly two decades," and that this is the first time IBM has ever raised an issue about patent infringement.
"We view IBM's counterclaim filing as an effort to distract attention from its flawed Linux business model," said a statement from SCO.
The Indemnity Question
Calling IBM's claims a repeat of "unsubstantiated allegations made in Red Hat's filing," SCO argues that if Big Blue were serious about addressing the intellectual property issues hovering around the use of Linux, it would offer customer indemnification and move away from the GPL license.
Yankee Group senior analyst Laura DiDio told TechNewsWorld that IBM, which provides indemnification on every other platform it sells, needs to state whether customers will or will not be indemnified.
"The entire Linux community is saying to customers, 'You're on your own,'" DiDio said. "That's not a place I want to be."
Faith in Resolution
A spokesperson for IBM, which indicated industry-wide resolve against the SCO claims, rejected complaints about Big Blue's own patent infringement suit and pointed out that SCO had been a Linux distributor for five years before its own source-code infringement campaign.
IBM also expressed faith that it will successfully defend its Linux products and that the open-source software movement will continue to grow.
"Make no mistake, SCO will continue to look for ways to create fear, uncertainty and doubt," said the IBM e-mail. "As the lawsuit continues, understand that the industry will resolve it."
License or Litigate
Despite concerns that the smaller software company will not be able to stick it out in court with heavyweights like IBM and Red Hat, SCO spokesperson Blake Stowell told TechNewsWorld that the company is in strong financial shape.
"If we didn't feel like we could go the distance, we certainly wouldn't have initiated legal action against IBM," he said, adding that payment for the company's legal team is contingent upon courtroom success.
Stowell would not comment on whether any companies have purchased the SCO-proposed licenses, but he said SCO is anticipating that some will take out the licenses to use Linux.
"Our hope is that all of them will be [taking out licenses]," he said. "I don't think that any of them want the alternative, which is litigation."