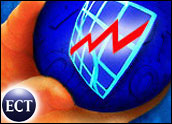 IDC's Worldwide Quarterly Server Tracker indicated growth for nearly all classes of the network computers, with a whopping $10.8 billion in overall revenue representing 2 percent growth in the third quarter of 2003.
Overall shipments of servers worldwide grew almost 20 percent, driven primarily by demand for lower-end, lower-cost servers that are increasingly being used in clusters by businesses with tightened IT budgets, IDC said. Overall, the top vendors ranked as follows: IBM, HP, Sun, Dell and Fujitsu.
IDC attributed the growth to companies embracing volume servers as mainstream technology, the increasing adoption of Linux servers and the slowing declines in Unix server sales. But IDC also indicated that it is still too soon to deduce whether a long-lasting economic rebound is in place.
"I don't think we are out of the woods yet in terms of coming back to normal spending patterns," IDC research director Steve Josselyn told TechNewsWorld.
Demand for Volume Servers
Josselyn said that as spending has declined overall in the server market, the bulk of the spending that there has been has centered on low-end servers. "It has been the engine for growth," he said.
IDC reported that the demand for volume servers — small servers priced less than $25,000 — drove the market segment to grow nearly 10 percent over last year. Sales of midrange server systems — priced between $25,000 and $500,000 — grew 7 percent while revenue from high-end enterprise servers priced above $500,000 declined 14 percent.
Josselyn, who cited limited success in the high-end market for HP's Superdome and IBM's zSeries servers, said budget constraints have hurt the high end, but are not killing it. "It's not like customers are walking away from that stuff," Josselyn said. "They're just spending less."
The ability to cluster low-end servers, particularly for high-performance technical computing, has also served to replace the more traditional, larger machine approach, according to Josselyn.
"We've seen the sale of a lot of nodes that are lashed together to solve a big problem over the last six to nine months," he said. "[That ability] is improving with all operating environments and it drives more use of these smaller nodes in bigger clusters to solve business problems."
Standings and Systems
IDC said that on the basis of factory revenue, the top server vendors remained at the top, roughly maintaining their market share. In this report, IBM came in at the top with 31 percent market share; HP came in at number two with 28 percent; and Sun and Dell came in battling at 10 percent each.
As in the past with the release of a new IDC worldwide server-sales report, there is often disagreement over how to interpret IDC's data. IBM and HP have argued vehemently about top-slot status and will likely continue to argue about it going forward.
As for server flavors, all marked growth except for Unix, which declined 3.8 percent — the lowest decline for the veteran operating system in seven quarters. IDC credited price competition for a 4 percent year-over-year uptick of Unix server shipments, with HP edging out Sun to lead the segment.
IDC said x86 servers based on Intel and AMD microprocessors drove much of the quarterly growth from last year, with server blades hitting more than 120,000 sales so far this year. "The x86 server market continues to outpace our expectations with respect to unit shipment demand and customer spending," said IDC program director Mark Melenovsky.
Windows and Linux
As for Windows servers, IDC said revenues increased 10 percent compared to last year and accounted for $3.4 billion in the third quarter — 32 percent of the overall market revenue. IDC said upgrades from Windows NT to Windows 2000 or 2003, as well as growing sales of scalable servers with four or more processors on Windows 2003, all contributed to the Windows growth.
Linux servers grew in both revenue and shipments by about 50 percent from last year — the sixth consecutive quarter of growth for the open-source system in servers, IDC said.
"Linux servers generated $743 million in the quarter, demonstrating their traction in the worldwide server marketplace as they take on more and different types of workloads from other types of servers," said IDC vice president Jean Bozman.
Aberdeen Group research director Bill Claybrook said he expects even more traction for Linux servers as the operating system makes inroads onto the desktop because customers are looking for consistency in both ends of computing.
"When Linux on the desktop starts becoming similarly popular, we'll see a hefty spike in the sales of Linux servers," Claybrook said.