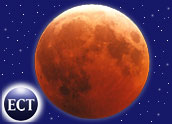 A new analysis of some very old rocks is reshaping our understanding of the moon. Scientists used modern techniques to search for tiny traces of hydrogen in a set of lunar sand samples taken by Apollo astronauts in the '70s.
The systems used in the study were able to break down the rocks 10 times more effectively than any past techniques. The find could lead to a deeper understanding of the moon's formation and early years.
Elemental Discovery
Scientists have tried for decades to find signs of water on the moon but have long concluded it is dry. The new research, though, suggests water may have actually been around since the moon's birth — just lost during a series of volcanic eruptions there 3 billion years ago.
By analyzing rocks from the moon's surface, the research team found minute signs of water elements. The signs indicate the moon might have even had a similar water content to what's been found in the Earth's mantle.
New Technique
A cutting-edge technique is responsible for letting scientists make the discovery. The scientists were able to look at every individual molecule. When they found hydrogen near other elements contained in water, they knew they were onto something that had never before been seen.
"People have tried. People have put a lot of effort trying to measure it since the '70s," geochemist Alberto Saal — an assistant professor of geology at Brown University and lead author of the study — told TechNewsWorld. "They didn't have the technique essentially to do the measurements," he said.
Saal's colleagues were actually using the technique to look for signs of water in the Earth's mantle when they realized how it could also apply to the moon.
"We got together and I asked [my colleague], 'Why don't we measure this on the moon now that we have a much more sensitive technique?' He said, 'Oh — of course. Let's do it,'" Saal remembered.
Funding Fight
Getting from the initial idea to the actual research proved to be a bigger challenge than the team may have expected.
"There is not much funding out there, and you're trying to propose to do something with a new technique," Saal said.
Most people had already tried looking for signs of water and found none, Saal said, so he and his associates were turned down three times before getting the green light from NASA.
"It took us three years insisting. [NASA] began to see an acceptance of the technique, so they were more inclined to say maybe we have something here. The third time was the charm," he said.
Next Steps
The research team will now look at samples from other Apollo missions to try to find more indications of water. NASA will also begin its own Lunar Reconnaissance Orbiter later this year to search for water near the moon's poles.
"It's hard to know how much water is in the moon, even when we found some," Saal noted. "It's very difficult to make any calculations without saying we know what we found is uniform everywhere."