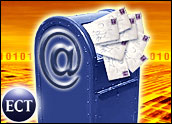 In a somewhat surprising answer to U.S. counterparts Yahoo and Google, which recently have revealed plans to offer high volumes of storage space as part of their Web-based e-mail services, European Internet company Lycos Europe has upped the stakes in the e-mail-storage race by offering its own 1-GB e-mail service.
Lycos announced it will offer the service to UK users this week and later will expand into other European markets. The company will charge US$6.15 per month for the 1-GB service, which comes on the heels of Google's announced plans for its own Gmail offering, a 1-GB service that is now in beta, and Yahoo's plan for increased-capacity e-mail storage.
The different Internet companies all have tried to attract users with free services and tempt them into subscriptions for higher-level services with premium offerings, such as more e-mail storage, which is increasingly in demand by users dealing with larger files, pictures, music and more, Yankee Group analyst Patrick Mahoney told TechNewsWorld.
"There is some demand for larger storage," Mahoney said. "Customers get frustrated when 10 pictures take up 25 percent of their storage. In terms of customer satisfaction with these services, it will help."
Lycos Smaller Rival, But Bigger Boast
Lycos is taking advantage of the other two competitors' publicity generated by the increased e-mail capacity. While overtaking Yahoo in terms of total capacity at 1 GB, Lycos also indicated it will try to avoid the controversy Google has sparked by announcing that its own 1-GB service will be supported by advertising.
Lycos said its premium 1-GB service will offer antivirus and anti-spam capabilities and will not use profiles of users to deliver advertising.
"We are delighted to be the first to offer our Lycos e-mail customers and Internet users a 1-GB service," said a statement from Lycos European vice president Alex Kovach. "We will be interested to see when our competitors can offer the service that we already provide with a sustainable business model to underpin it."
Lycos Pushes Internet Arms Race
Mahoney said the announcement from Lycos came as somewhat of a surprise because most of the industry focus has been on Google, which recently filed for an IPO, and Yahoo's efforts to counter Google with improvements to its own portal and e-mail services.
"Google announces a massive amount of storage, then Yahoo follows suit and then Lycos, too," Mahoney said. "It wasn't something I would have expected from them."
However, Mahoney said the move is a good one because it is likely to help Lycos establish a prominent brand and rise to the "prominence of a Yahoo."
The analyst likened the Internet industry gamesmanship to the increase in connection speeds from broadband providers.
New Differences, Advantages
Mahoney said that with Google's coming cash windfall from the IPO and Yahoo's position, leadership and strategy, the two U.S. companies likely will be offering more and more features to differentiate their services and lure new customers.
"I think we're going to see Google get its injection of cash and they're [going] to start to develop and release more portal-like services," Mahoney predicted, adding that the company might produce its own instant-messaging client.
Yahoo also is in a good position as it approaches the market as a media company and an Internet company under the leadership of chairman and CEO Terry Semel, according to Mahoney.
"These companies have realized the environment they're in is rapidly evolving," he said. "You've got to continue to develop and produce new services, even if they are free — to keep the eyeballs on your services, which is what gets you the dollars."