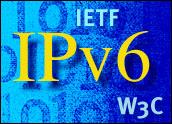 MCI and Cray Supercomputers announced a deal to test new software for the next-generation Internet, also known as IPv6, touting more Internet Protocol (IP) addresses, enhanced routing, auto-configuration of networks, and better security and mobility.
MCI will provide the IPv6 network — which exponentially increases the number of potential IP addresses for an increasing number of systems and devices via 128-bit addresses compared to the 32-bit addresses of today's IPv4 — for Cray to test and develop applications and software for IPv6. The companies indicated there is an increasing demand for the technology from government contractors and other industries.
Analysts said while the IP address situation may help to push the change to IPv6 — particularly in Asia where the addresses are more limited — many of the other improvements from IPv6 are possible with IPv4 through various measures. Thus, the switch to the next-generation Internet will be a slow one worldwide.
"The big thing with IPv6 is you get a lot more addresses," Gartner research Vice President Martin Reynolds told TechNewsWorld. "But you know what — the world seems to be doing fine with IPv4. Someday we'll say we've all moved to IPv6, but that is some years out."
Increasing Demand
MCI and Cray, however, said there is demand for IPv6 today — highlighting researchers in academia, government and industry as among the early adopters.
The companies, which indicated that IPv6 and IPv4 will co-exist for a number of years of transition, called IP address space the primary driver, but also indicated IPv6 will offer better network performance, easier management and more support for mobility.
"Due to the finite number of IPv4 addresses within today's current environment, Cray is experiencing an increasing demand from the U.S. government and our Asia-Pacific customers for hardware, software and applications that are IPv6 compliant," said a statement from Cray network engineer Darren Dehnke.
Not As Critical
Gartner's Reynolds, who said the IP address situation was not as critical as IPv6 proponents have presented it, said many of the other advantages of IPv6 have been accomplished with IPv4.
"All of those problems have been solved in IPv4 by measures that are good enough," he said.
Still, Reynolds said there is no question that someday, IPv6 — which provides better cryptographic capability — will be standard. He added that despite the greater need for IPv6 in Asia, the world is likely to move to IPv6 at about the same time.
"I think it'll all move together," he said. "Everybody will move to it slowly and roughly as a pack."
Moving, But Still Mythical
Yankee Group senior analyst Zeus Kerravala, who agreed that IP addresses are the primary driver of IPv6, told TechNewsWorld the increased demand for the technology is coming from the government and multi-national corporations that are requiring IPv6 capabilities from vendors bidding on contracts. The U.S. Department of Defense last year announced a directive for all of its networks to be IPv6-ready by 2008.
"You can't bid on a DoD deal if you're not IPv6 compatible," Kerravala said.
The analyst, who envisioned pockets and connected islands of IPv6 as adoption grows, concurred that the other benefits of IPv6 — enhanced routing, auto-configuration, security — can be accomplished with IPv4, albeit with more complication.
Although IPv6 is "still a mythical story," according to Kerravala, the next-generation Internet will eventually replace IPv4, he said.
"It's clearly a matter of when rather than if," he said. "But the when — I think we may be looking at a 10 to 15-year cycle."