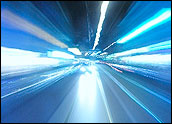 San Jose, Calif., startup MetaRAM has launched new technology it says can quadruple the memory capacity of servers and workstations.
The DDR2 (double data rate 2) MetaSDRAM technology boosts performance and at the same time decreases the cost of high-performance systems, the company said.
Founded by former AMD Chief Technology Officer Fred Weber, MetaRAM produced technology that convinces a device's memory controller that multiple DRAMs (dynamic random access memory) are instead a single, larger capacity DRAM.
"I've spent my career focused on building balanced computer systems and providing compatible and evolutionary innovations. With the emergence of multi-core and multi-threaded 64 bit CPUs (central processing units), I realized that the memory system is once again the biggest bottleneck in systems and so set out to address this problem," said Webber, CEO of MetaRAM.
"MetaRAM's new MetaSDRAM does just that by bringing breakthrough main memory capacity to mainstream servers at unprecedented price points, without requiring any changes to existing CPUs, chipsets, motherboards, BIOS (basic input/output system) or software."
Unclogging the Bottleneck
Sitting between the memory controller and the DRAM, the MetaSDRAM chipset is a drop-in solution the company said will close the gap between advances in processor computing power that outpaces DRAM capacity. Processor speeds double about every 18 months, versus the 36 months it generally takes for memory capacity to double.
The MetaDRAM chipset packs in four separate 1 GB DDR2 SDRAMs into a single, virtual 4 GB DDR2 SDRAM, which behaves the same as would a monolithic 4 GB DDR2 MetaSDRAM, according to the company. The system is compatible with platforms based on dual-core and quad-core processors from AMD and Intel.
The chipset is optimized to offer lower power consumption and higher performance with features including WakeOnUse power management, a dynamic command scheduler to ensure compatibility with JEDEC DDR2 protocol, low latency circuit design and a split-bus stacked DRAM design for flexible access of the multiple DRAMs in a stack, MetaRAM said.
The technology also offers enterprises significant cost savings. Using MetaSDRAM, a quarter-terabyte, four-processor server with 16 cores starts at less than US$50,000, a nearly 90 percent reduction in cost, according to MetaRAM.
The MetaSDRAM MR08G2 chipset enables 2-rank 8 GB DIMMs (dual in-line memory modules) and is capable of functioning at speeds up to 667MT/s (megatransfers per second). It consists of an AM 150 Access Manager and 5 FC540 Flow Controllers that function as a group. The chipset is prices at $200 per 1,000 kit quantities.
For those with greater capacity needs, the MR16G2 chipset enables 2-rank 16 GB DIMMs and consists of two AM160 Access Managers and 9 FC540 Flow Controllers sells for $450 per 1,000 kit quantities.
DDR3 Bridge
MetaRAM's announcement needs to be looked at in conjunction with the activities of DDR3 at this time, said Ian Lao, an analyst at In-Stat. Part of the SDRAM (synchronous dynamic random access memory) family, DDR3 is the successor to DDR2. While its principal benefit is the ability to quadruple memory performance, it also reduces power consumption by up to one-third compared to DDR2. On the downside, however, DDR3 costs significantly more than DDR2 and has higher latency.
"It is good for the marketplace that higher memory reach is available for existing DDR2 server platforms. It will let server companies expand the number of VMs (virtual machines) or resources dedicated to each VM on existing servers," he noted.
However, what needs to be considered is the need by server farm operators for not only density but also performance. Server farm space and resources are expensive, and companies are already finding it difficult to meet the demands from current Internet use, Lao explained.
"With the close coupling of chipset to the memory subsystem, DDR3 is supposed to help up performance as well as density. How DDR3 is going to ultimately roll out is yet to be seen," he continued.
If MetaRAM releases a consumer PC version of the chipset, that would "raise an interesting market play" if the company can keep the price down, Lao told TechNewsWorld.
"Users of platforms with DDR2 moving to Vista will need more memory for the new [operating system]. While pricing will be critical, the option of increasing the memory in the same number of DDR2 system slots has potential," he concluded.