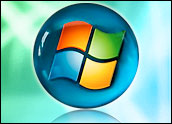 An independent software development company claims to have statistics showing that one out of three new enterprise PCs purchased are running Windows XP, not Windows Vista. The numbers from Devil Mountain Software, based on a study of more than 3,000 machines, found that enterprises are purchasing new machines with Vista pre-installed and downgrading them to Windows XP.
The data, compiled by Craig Barth, chief technology officer at Devil Mountain, was culled from information provided by the company's exo.performance.network project. Launched six months ago, the project is an effort to create a global repository of computer performance-related knowledge and data based on feedback from enterprise-level customers.
"Not everyone in the archives is running Vista, but out of the sample set of Vista-capable population and those that shipped with Vista — in the less than 1,000 PC range — what we're seeing is two-thirds of those systems still have Vista installed. One-third of them have been modified to run XP at this date," Barth told TechNewsWorld.
A Repository of Windows Data
The repository, according to Barth, is a dynamic compilation of system and process metrics data collected from Windows-based PCs and servers around the world. It contains real-time records of key performance-related metrics, including central processor unit utilization and process-specific data.
"We have a community of mostly enterprise customers; our original product platform hails out of our work with the financial services industry. Our tools are installed throughout many Wall Street firms, and the larger ones have been using it to monitor workstations for several years," he explained.
"Exo Performance network is our attempt to take that out into the public domain and offer the basic framework we collect data on to the public as a way to track the larger Windows community. We are trying to build a repository of metrics data on as many Windows-based systems as possible — clients, workstations, servers, desktops and laptops all running various versions of Windows — XP, Server, Vista, etc.," Barth said.
Devil Mountain's DMS Clarity Analysis Portal uploads information every few minutes on an ongoing basis to the company's repository. "We have a pretty accurate snapshot of what's going on with these machines at a given time," he asserted.
The company took an inventory of participating machines identifying them based on make and model (particularly HP, Dell or IBM systems) that shipped in the past six months loaded with a version of Vista installed. They compared that to the number of machines reported by their monitoring agent to be running that version of Windows in the field.
"It was just simple comparison. If the machine [previously] had one of the Vista flavors, it is a clear example of a machine that has been downgraded directly by the end-user or by their IT organization in a larger firm or a request to [the manufacturer] to exercise their downgrade option," Barth said.
An Enterprise Problem
"Over 180 million Windows Vista licenses have been sold since launch," Craig Cincotta, Windows Senior Product Manager, told TechNewsWorld.
With numbers like that, it is a big leap to go from a sample group of 1,000 or so computers to hundreds of millions, he said.
Although Barth acknowledged that it is tricky to extrapolate larger trends from a small sample of contributing data, he statistics come from a varied user base that is "pretty diverse with a lot of large firms and is international in its scope," he said.
"What we're seeing is fairly representative of the enterprise space," Barth added. issues since the release of Vista in 2007 are well-documented. Compatibility issues in terms of devices and security as well as the operating system's demands on computer resources, according to Barth, are the principal reasons enterprises are opting to stick with XP or wait for Windows 7.
"The user feedback and customer feedback that has been reported over the last year or so is that large organizations are bypassing Vista or delaying its adoption or debating whether to stick with Windows XP. Consumers will take anything that ships with their systems. Where we see resistance to Vista is in the bread-and-butter enterprise, data center managed and controlled environments of corporate America and the world," he explained.
Michael Cherry, lead analyst at Directions on Microsoft, told TechNewsWorld he hears similar reports from the firm's clients.
"Customers tell me they are evaluating their desktop strategies, including deployment of Vista. Key to their decision is application compatibility, and most organizations have large numbers of in-house applications that need to be tested. Once evaluation is complete, they will prioritize where a desktop deployment or replacement project falls within the priorities they have for their IT projects. In the interim, some customers are exercising their downgrade rights," he said.