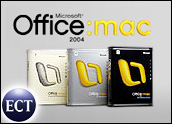 This week Microsoft announced its intention to deliver Office 2004 and Virtual PC for users of Apple Mac computers during the first half of 2004, hoping to hold on to the small, profitable Mac market. To entice Mac users, Microsoft is offering an upgrade to the new Office 2004 for free to users who buy the current version anytime from now until 30 days after the new product's release.
"Microsoft's new Office 2004 for Mac includes many Mac-first features and is the best version of Office yet," said Apple senior vice president of worldwide product marketing Phil Schiller in a statement.
New for Macs
There are several significant new features in Office 2004 for Mac, including Project Center and Word Notebook. Project Center is billed as a simple way to view and organize all e-mail, files, contacts, meetings and tasks on a particular project. Word Notebook is designed to help users take notes, search for information and record audio directly into a Word document.
Other features include a Scrapbook for quick access to text, logos and pictures; a Page Layout component in Excel to allow viewing and manipulation of a spreadsheet's printed form; and a Compatibility Report generator, which is designed to allow seamless information sharing — regardless of platform — by informing users about issues associated with compatibility with older versions.
Microsoft also said its Virtual PC for Mac Version 7 — which provides a bridge between Mac users and Windows software, networks and devices — will ship with the Professional Edition of Office 2004 for Mac and will be available as a stand-alone product in the first half of the year.
Microsoft's Mac Evolution
Microsoft Mac Business Unit general manager Roz Ho referred to the evolution of the company's software for Mac, which began more than a dozen years ago.
"I'm using Office as it's being developed and am constantly amazed at how the new features help me work more effectively," said Ho, who called Office 2004 for Mac the business unit's proudest accomplishment to date. "I know our customers will feel just as passionately about Office 2004 as I do when it launches later this year."
Gartner research director Martin Reynolds told TechNewsWorld that Microsoft's Mac unit flies below the radar largely because the development group is insignificant to all but Mac users, who represent less than 3 percent of the total computer market.
Nice Niche
However, Reynolds called the Mac market for Office a good one for Microsoft, which profits from Mac software sales more than it does from sales to Windows users. "It's a comfortable, profitable product for them," he said.
The analyst indicated there is also no real competing software for productivity on the Mac platform, adding that although the market is a niche, it is "big enough and significant enough" for Microsoft to target it.
Avoiding a Vacuum
While he said there are not really any products that compete with Office 2004 for Mac, Reynolds said Microsoft would leave the door open to competitors if it did not continue providing the productivity suite to Apple fans.
"If they dropped it, it would open a place for somebody else, like StarOffice, to provide to Mac users," he said. "It would create a vacuum to cause another product to emerge, which is not something [Microsoft] would like to see."
Reynolds said that while Microsoft is targeting a market on a rival platform with its Office for Mac software, Apple is reciprocating by expanding its iTunes online music store and iPod player to Windows PCs — essentially a larger market that has the potential to increase Apple's original market of Mac users by a factor of 50 or 100.