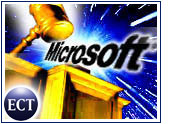 After initiating its pursuit of Microsoft in 1998 to stand with the U.S. Department of Justice and more than eight other states, which all eventually settled with the software company, Massachusetts is still seeking tougher sanctions.
Complaining that the two-year-old Microsoft-U.S. antitrust settlement that was tweaked and eventually accepted by the other holdout states leaves Microsoft free to sustain its monopoly position through abusive practices, Massachusetts made its case before the U.S. Court of Appeals for the D.C. Circuit on Tuesday.
Massachusetts attorney general Tom Reilly made oral arguments to appeal a year-old ruling that endorsed the settlement deal, which required Microsoft to open some source code so its software will work better with other vendors' products and to license portions of its Windows system code to other application developers.
Industry and legal observers indicated Massachusetts has the disadvantage of being the only party in the antitrust suit that has not agreed to settle. Meta Group vice president Steve Kleynhans told TechNewsWorld that while the antitrust trial, likely on its last leg, is "in the past for most people," Microsoft is almost sure to face more assaults.
Ill Gains Ignored
"The reality is that this is probably the final movement of this particular round of issues," Kleynhans said. "But I think it's quite likely we'll see a whole other event happen with the European Commission in Europe. That will be another round of several years."
Kleynhans also indicated that Microsoft's next-generation Windows operating system — known as Longhorn — may be herded through the courts as it faces its own antitrust challenges.
Presenting arguments before a panel of six judges considering a lower-court blessing of the antitrust settlement, Massachusetts attorney general Reilly argued that Microsoft's 2001 deal with the Justice Department ignored Microsoft's "ill gotten gains, did nothing about safeguarding competition in new technologies and was filled with loopholes and exceptions."
Microsoft has been repeatedly found guilty of antitrust violations, but it has not yet been held accountable for its actions, Reilly said in a statement. "[Microsoft] continues to crush innovation, competition and consumer choice in the software industry."
Hurting Consumers, Developers
Microsoft spokesperson Jim Desler, who called the antitrust settlement "tough in its restrictions on Microsoft business practices," told TechNewsWorld that the company has taken several steps to comply with the deal.
Citing changes to license agreements with original equipment manufacturers, the ability to hide access to certain Microsoft applications such as Explorer and Media Player, and the availability of more open programming interfaces and communications protocols, Desler said the company is committed to making the settlement work.
While he said Microsoft is aware that "there are remaining issues out there" in reference to the European matter, Desler argued that the stricter requirements sought by Massachusetts would hurt consumers and developers.
"They are advocating a fundamental removal of code that would hurt developers by creating confusion in the marketplace through a fragmented version of Windows," he said.
Move On or Make Pay?
Yankee Group senior analyst Laura DiDio, who credited the "liberal and democratic" nature of Massachusetts for its persistence in the antitrust case, told TechNewsWorld that the state's computer users are ready to move on.
DiDio said the issue is not high on anyone's radar screen, adding that Microsoft has been more amenable to its customers recently — not because of the antitrust settlement, but because of economic conditions and increased competition from Linux, open-source software, Oracle, IBM and other factors.
For his part, Kleynhans said Microsoft appears to be complying with both the letter and the spirit of the settlement, adding that despite continued disdain for the company, most in the IT industry are not looking for a court-ordered solution.
"Customers do have hard feelings toward Microsoft, but I see them looking for resolution through the market rather than having the government ride in to save the day," he said.