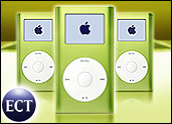 Reports of Apple's inability to patent the interface software in its popular iPod music player and Microsoft's efforts to stake its claim to such technology through its own patent application have sparked wide speculation that Microsoft might make royalties off the Apple devices, which sold to the tune of nearly 20 million units in the last year.
However, legal experts and industry analysts highlighted the lengthy process and potential hurdles to a Microsoft claim on the MP3 music organizer and player, and indicated that an AppleInsider and subsequent reports make a bigger story of what is standard patent procedure.
"All that has happened is Apple's patent has received final rejection, and that is a non-event," patent attorney and Townsend and Townsend and Crew partner Roger Cook told TechNewsWorld. "This is really making a mountain out of a molehill."
Testing the Waters
While the rejection of Apple's patent application for iPod technology — reportedly the player's software interface and menus — has been described as a mistake or a major setback for the company, Cook said patent applicants typically "test the waters" of what their patents cover, and final rejection is common to nearly all patents. Cook said Apple will simply have to file another patent application that meets the parameters set by the patent examiners.
There has also been much made of the fact that part of the rejection was because of an earlier patent application that links back to Microsoft. Reports stated that the software giant might be entitled to as much as US$10 per iPod device, but Cook again said the facts were being added up incorrectly.
Cook called the prior patent application "again, a non-event," and stressed the difference between Microsoft's patent application and any kind of patent claim, which has not happened.
"It doesn't even rise to the level of [patent] interference, yet," he said.
Resolution Options
Cook said that even if the patents from the two technology giants intersected or interfered with one another, the U.S. Patent Office and both applicants could either resolve issues within the patent office or through federal litigation.
Although he noted Microsoft's effort to aggressively build up and enforce a patent portfolio, Cook again said patents typically evolve through applications and rejections, one of which is granted free to patent applicants. Furthermore, patents are frequently challenged and can be invalidated by prior works that impact validity and enforceability.
"Once a patent is granted, it's not a sure thing at all," Cook said. "It's by no means a sure thing that [Microsoft] would have a valid legal position against Apple. It would be a question of who invented it first."
No Bully
Yankee Group senior analyst Laura DiDio, who echoed the idea that patents are not final once approved, indicated the patent matter may be more about image at this point.
"What we're really talking about here is posturing," she told TechNewsWorld.
DiDio observed that although Microsoft is unlikely to overtly, aggressively pursue a potential iPod patent claim for fear of looking like a bully, the software giant is also looking to increase its revenue from royalties and patent enforcement.
"That said, clearly Bill Gates and Steve Jobs have a long history," she added, referring to Microsoft's patent win over Apple on its graphical user interface (GUI). "Do I expect a public squabble on this? No. What's more likely is, Steve's people will call Bill's people, and at some point, they will sit down and accommodate each other."