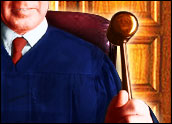 Two of the world's largest computer and software companies have been sued by UK-based BTG International for patent infringement over Web-enabled software update and other technologies.
BTG, a UK-based intellectual property and technology development company, along with New York-based Teleshuttle, filed suit in federal court in the Northern District of California this week against Microsoft and Apple for the companies' operating systems, which allegedly infringe on patented BTG technology.
In a separate filing, BTG sued Microsoft for patent infringement involving the Redmond, Washington-based software giant's active desktop and offline browsing technologies.
Microsoft had not had a chance to review the matter and could not comment on it, according to company spokesperson Stacy Drake, who told TechNewsWorld the company will respond appropriately when it has the case.
Update Infringement
BTG claims that its patent — the result of work from inventor Richard Reisman in the early 1990s — is being infringed by both Microsoft and Apple, which use Internet-based updates for their Windows and Mac OS X operating systems, respectively. The suit also alleges infringement in Microsoft's Office products.
BTG, which is the licensee of the patent owned by Teleshuttle, said that while working to enhance the usefulness of online computing, Reisman conceived and created his invention of Web updates, which occurred "well before the Internet became mainstream," BTG said in a statement.
In its suit, BTG charged both Microsoft and Apple of patent infringement and sued for unspecified damages for past infringing activity, requesting an injunction against future use of the update technology as well.
More for Microsoft
The separate, Microsoft suit filed by BTG involves a patent covering Microsoft's active desktop and offline browsing technologies, BTG said.
That patent also covers work from Reisman, who sought out the assistance of BTG in 1998 to help protect his inventions through the patents.
The separate suit against Microsoft also asks for unspecified damages for past infringement and an injunction to prevent future use.
Talks Turn to Suits
BTG spokesperson Chris DeFusco told TechNewsWorld that his company had been in discussions with both Microsoft and Apple for between eight and 12 months before proceeding with litigation.
BTG said in its statement that the patent suits follow delays from Microsoft and Apple on entering into licensing agreements "on commercially agreeable terms."
"It's always our intent to try and settle these things in mutually and commercially agreeable terms," DeFusco said. "Litigation is a natural step in that process. I hope that both companies, and any companies we are working with, are aware it is our primary desire to solve these issues amicably."
Large Targets
DeFusco said that although his company would rather reach a settlement to avoid the expense and expenditure of resources associated with litigation, it was the most logical option.
DeFusco also indicated that other companies may be named as alleged patent infringers.
"There are other companies we have been in discussions with, we just chose Apple and Microsoft to focus on with these suits," DeFusco said. "One generally will go for the clearest case of infringement and where the damages associated with infringement justify litigation."