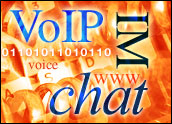 Promising seamless connection of people, information and business processes in real-time, Microsoft has announced that its newest enterprise instant-messaging (IM) solution — the Office Live Communications Server (LCS) 2005 — is available through a beta program and will be released later this year.
Microsoft said LCS 2005, code-named Vienna, will incorporate "presence capabilities" into applications so that all participating users will be able to see whether someone is online and available. Other elements include encrypted instant messaging, standards-based architecture and tighter integration with Microsoft Office applications, servers and services.
"The value of IM and presence significantly increases as more users are added to the network, and Live Communications Server 2005 will enable customers to extend the benefits of real-time communications to a broader set of stakeholders, such as partners, suppliers and customers, enabling them to make better decisions faster with a more secure and managed environment," said Microsoft general manager of the Live Communications group Gurdeep Singh.
Radicati Group market analyst Genelle Hung told TechNewsWorld that although the enterprise IM market is relatively weak compared with the consumer market right now, Microsoft is doing well in the space.
"The integration with Office is brilliant," Hung said. "Moving forward with audio and video capabilities in today's world — that makes sense."
Communication Consolidation
Microsoft said key enhancements to LCS 2005 include: LCS Federation, the extension of presence information and IM to partners, suppliers and customers; an outside access solution that allows end users to connect to presence and IM capabilities while outside the corporate network on the road, at home or elsewhere; and improved architecture for better reliability, availability and scalability.
Hung, who highlighted presence and mobile capability improvements in the new version, said it also fits into Microsoft's strategy to consolidate servers.
"They're trying to increase the number of users per server and integrating more audio and video," Hung said. "Definitely, companies want to be able to talk more and respond faster. Presence is really a key driving IM."
Beta Now, Q4 Release
Microsoft, which said LCS enables a broad partner and developer ecosystem because of its foundation on standard protocols such as Session Initiation Protocol (SIP) and SIP Instant Messaging and Presence Leveraging Extensions (SIMPLE), is accepting nominations from those interested in participating in the LCS 2005 beta program.
The production version of LCS 2005 is scheduled for release in the fourth quarter of 2004, Microsoft said, adding that customers who received LCS 2003 grants as part of their Exchange 2003 Enterprise or Software Assurance agreements may be entitled to LCS 2005 within their current deals.
Gradual and Managed
Hung, who said customers are generally happy with Microsoft's IM efforts despite some hesitancy over trusting the software giant, indicated the company has done a good job of making IM changes gradually and addressing the learning curve for new features and functionality.
"They have done it in stages," she said. "They have not shoved it down people's throat. And you like it because it becomes a part of your lifestyle."
Noting the importance of the link between Microsoft's consumer MSN messaging and LCS, Hung also said enterprise IM use is increasingly done through managed service providers, such as IMlogic and Akonix.
"These guys have been where the money is," Hung said, adding that companies are attracted by the single provider that manages all of the different IM platforms together. "That is very helpful, and it makes a lot of sense."