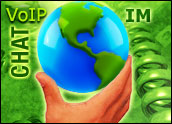 Building on an existing relationship and trying to capitalize on a growing business-conferencing market that is becoming more integrated with both telecommunications and the world of information technology, Microsoft and British telecom giant BT announced a global deal on Monday.
The companies had announced a suite of business tools last month, saying that the combined capabilities of BT audio-conferencing services and Microsoft's Office Live Meeting would help cut travel costs and boost teamwork.
The partnership, part of Microsoft's conferencing and collaboration strategy rooted in its acquisition of PlaceWare, is among several telecom conferencing agreements announced by Microsoft, and is likely to be repeated, Frost & Sullivan industry analyst David Alexander told TechNewsWorld.
"The integration of audio and data conferencing is something to watch and I think we'll see more of this deep partnering," Alexander said. "It will be essential to meet the need for a single-source, integrated solution."
Trading Travel for Teamwork
BT and Microsoft said that their new alliance, among the largest partnerships between a major telecom and IT provider, will bring together BT's global telecommunications network and Microsoft's real-time collaboration technology to minimize travel expenses and boost productivity.
The companies will offer the combined Web- and audio-conferencing services and software immediately to customers in the UK and U.S. on a per-minute or per-seat basis, they said.
"Microsoft and BT already have agreed to jointly define and develop additional communication and collaboration services that we will bring to market," said BT Retail chief executive officer Pierre Danon in a statement. "Moreover, we expect our relationship to grow, representing additional market potential for both companies."
Jean-Philippe Courtois, Microsoft senior vice president and chief executive officer of Microsoft Europe, the Middle East and Africa, said the collaboration — which provides real-time, Web-based support, multiple presenter capability, text-based Q&A, and programs for training, implementation and adoption — will extend real-time collaboration technologies into foreign markets.
Takes More Than Travel
Alexander said that while the conferencing market is definitely hot and companies such as Microsoft and BT tout travel cost savings, there are several other factors that are becoming increasingly important to conferencing success.
"You can always take the business travel case as a key driver, but I think for the conferencing market to be successful, it has got to go beyond that small percentage of people who travel on a regular basis," Alexander said. "Bringing people together in instances where travel wasn't even considered is also important."
Alexander said presentation and collaboration work for new product rollouts, company-wide meetings, planning and training were all examples of things that might not have been done as efficiently or effectively as possible in the past.
Eating Own Conferencing Food
BT reported that, throughout its last fiscal year, the British telecom giant has been using Microsoft's LiveMeeting itself in an internal program. BT said it estimates that the use of the combined BT-Microsoft solution saved 6.2 million miles in business travel and resulted in "significant cost savings to BT's profit and loss center."
"As a result of these savings and other business benefits realized during the pilot program, BT is further deploying LiveMetting across its organization, including its current internal MeetMe audio conferencing users," said a company press release.
Alexander said it was key for companies involved in collaboration and conferencing solutions to use those products themselves, which most do.
"It helps make the overall company believe more in what it's selling and helps them become better users of their own technology," Alexander said.