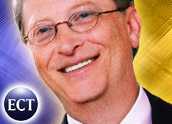 Touting support from hardware makers and a new crop of hardware drivers, Microsoft this week announced its Windows XP operating system is finally making the move to 64-bit computing.
The software giant announced at the Windows Hardware Engineering Conference (WinHEC) in Seattle today that it would ship 64-bit versions of Windows server and desktop software. While chipmaker Advanced Micro Devices has offered 64-bit processors for more than two years, software for the more powerful computing platform was largely limited to other operating systems, particularly Linux.
Microsoft did have beta software that ran in64-bit mode, but it was not until chip giant Intel released its 64-bit hardware that the move to 64-bit was truly underway, according to industry observers. Analysts said Microsoft will not be penalized for delays to its 64-bit transition, which is actually timed right for corporate customers.
"2005 and 2006 are going to be very big years for migration," Yankee Group senior analyst Laura DiDio told TechNewsWorld. "I think (Microsoft) has hit itabout on time."
Windows on Next Wave
In announcing the general availability of Windows XP Professional x64 and Windows Server 2003 x64, Microsoft chairman and chief software architect Bill Gates demonstrated what he called faster, more secure and more powerful operating systems.
Gates also indicated that the 64-bit versions of Windows — described as Microsoft's "third decade" of software innovation — would be built upon further with 64-bit capabilities in the next-generation Windows dubbed "Longhorn," which is expected nextyear.
"The next decade will bring about a new wave of innovation in the technology industry through the increased security, greater reliability and faster performance enabled by 64-bit computing and continued advances in Windows," Gates said.
Hot Buttons and Help
Yankee Group's DiDio said although other operating systems were capable of 64-bit computing well before Windows, the software giant is actually keeping pace with the majority of enterprise customers.
"What we are seeing is most customers would rather Microsoft is delayed or late rather than rush out a product that isn't ready," she said.
DiDio, who indicated Microsoft is trying to funnel 64-bit functionality into its core desktop and server products, said Microsoft's out-of-the-box support for 16,000 hardware drivers in the new 64-bit versions was impressive.
I think Microsoft is hitting a lot of the hot buttons," she said, referring to driver support and security. "But it's not going to be up to only Microsoft on 64-bit computing," DiDio added.
The analyst said third-party software support from companies such as Adobe will be critical to the timely migration to 64-bit Windows.
Transition Underway
Mercury Research president Dean McCarron told TechNewsWorld the industry is right in the middle of the transition to 64-bit.
"Certainly, if it's not the majority [of systems getting shipped] at this very moment, it will be by the end of the quarter," he said.
McCarron indicated AMD's 64-bit chips in the market have been a key to widespread use, but that Intel's 64-bit "mainstreaming" into its entire line of chips marks even more mainstream 64-bit computing, which the analyst envisioned as "a new capability people will be using without being aware of it."
McCarron said while AMD addressed the driver issue with 64-bit extensions that were backward compatible, the substantial driver support with Windows 64-bit versions will likely make the issue moot for Microsoft.
"Typically, Windows ships with the ability to run most basic drivers on hardware," he said.