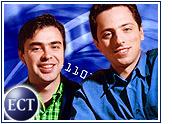 Buzz about Microsoft seeking to partner with or purchase search-superstar Google startled Internet users this week. However, despite rumors to the contrary, Microsoft might wind up using its own technology to compete against Google and other major Internet vendors, such as Yahoo and Amazon.
Most reports indicate Google is proceeding on its own toward an initial public offering — a belief that is generating optimism about a new IPO gold rush, this time with less hype and fewer overinflated stocks. If Google did move for an IPO, it would make a Microsoft acquisition less likely, Yankee Group analyst Michael Kelleher told TechNewsWorld.
"Now's the time, before the IPO, because Google's stock is going to skyrocket," Kelleher said. "I think [Google's IPO] is greatly significant. They're probably the only dominant Internet brand that's still a private company. I think the price will bid up."
Why Google?
Although Microsoft has its own search technology — and recently announced a paid-placement search deal with Yahoo-owned Overture — the company's rumored advances toward Google have been the subject of extensive speculation.
Kelleher said Microsoft might have discovered issues in its own search technology that could make an outside acquisition more attractive to the company than in-house development. Or, the company might simply be trying to co-opt, rather than compete with, Google's new paid-search listings.
Regardless of the reason, Kelleher said he doubts the likelihood of a Microsoft-Google merger, adding that it would be totally out of character for Google, which has risen from its origins as a small consumer-search site to be the most prominent search engine on the Web with several significant new revenue streams.
"I can't think that anyone at Google's ready to sell," Kelleher said. "I just think they're too ambitious."
Getting Paid
Overture spokesperson Jennifer Stephens told TechNewsWorld that Microsoft's relationship as a key partner of the smaller search company, recently acquired by Yahoo, is evident in a recent deal that means Overture's paid-placement search toolbar will be on Microsoft's MSN service and Web site in the United States and United Kingdom through 2005.
Stephens said Microsoft is working on an algorithm-based Web search tool — similar to Google's — that does not compete with the paid-placement search model provided by Overture.
Overture, which claims to have pioneered paid placement, or "commercial search," expects this form of advertising to create a US$8 billion market by 2008.
Google, which includes its own AdWords paid placement listings among significant revenue streams, declined to comment on either its dealings with Microsoft or a possible IPO.
IPO Importance
Google spokesperson David Krane told TechNewsWorld that the company remains focused on its "core responsibility of providing the best search experience on the Internet."
Krane said that despite the possibility of newcomers, including Microsoft and Amazon, entering the search battle, Google does not see the competition as any more fierce than when it first launched in 1998 to compete with AltaVista, WebCrawler, InfoSeek and others.
Referring to Google's place among only a handful of dominant Internet players, Yankee's Kelleher said an IPO by the company could hearken back to the glory days of the late 1990s. "There is a certain frenzy still associated with some of these dominant brands," he said.
The analyst added that as the amount of content on the Internet continues to grow, search functionality and the ability to simplify and compare will become increasingly important. "A lot of the dominant Web brands are going to have to have it," Kelleher said. "That's the future."