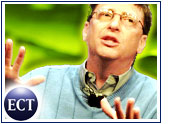 Microsoft this week released the first patch — described as "critical" by the Redmond, Washington-based software company — for its new Office 2003 software suite. The patch addresses a problem with use of previous Office versions.
Microsoft warned the problem could result in corrupted, incomplete or inaccessible documents and error messages. The company urged users to patch to ensure Word 2003, Excel 2003 and PowerPoint 2003 work properly.
Critics of the company viewed the patch as a quick, embarrassing follow-up to the Office 2003 debut less than three weeks ago, when Microsoft chairman Bill Gates touted potential productivity gains that would result from companies adopting the Office 2003 system. The "milestone" software was made available to manufacturers in August, but that release was delayed because of the need for more testing, according to Microsoft.
Yankee Group senior analyst Laura DiDio downplayed the issue, telling TechNewsWorld that the glitch and subsequent patch are unlikely to deter Microsoft's much-desired migration to Office 2003. "That's not likely to be any major impediment," she said. "You expect bugs at this point in the game; this is the cost of doing business for most folks."
Mismatch Bug
The Office 2003 patch addresses a software bug that impedes or impairs the opening or saving of Office PowerPoint 2003, Office Word 2003 or Office Excel 2003 files that include an OfficeArt shape previously modified and saved in an earlier version of Office.
"It's essentially a mismatch between the way older versions handled embedded objects and the way the newer version handles embedded objects," Meta Group vice president Steve Kleynhans told TechNewsWorld.
Microsoft said that when one of the Office 2003 files is opened in an earlier version of Office, the document might be incomplete or corrupted and could generate an error message.
The new Office 2003 software consists of six suites, 11 products, four servers, one service and other software. Microsoft said the patch is needed for all versions of the software as well as for the PowerPoint, Word and Excel applications in Office 2003.
Data Priority
Kleynhans said the problem requires several steps to be present and is unlikely to impact most users. However, because the issue involves a possible loss of data, Microsoft prioritized it, the analyst added.
"Any time you have the potential for data loss, even if it's unlikely users will experience it, you're going to jump on it," he said.
Referring to the rare conditions required for the problem to crop up, DiDio agreed that the problem is not severe and said she is actually surprised that there have not been more bugs revealed in the Office 2003 software so far.
Quality Trend
Kleynhans, who called Office 2003 "a large application with a whole lot of moving parts and pieces," said such a bug is not unexpected given the complexity of the software.
"It's proof that even with something that's well tested and well used, you can still get things that jump out and bite you," he said. "We're always going to have to deal with patches. The complexity of the software we're dealing with dictates it."
DiDio put the issue in perspective by comparing Office 2003 with the software Microsoft released 10 years ago, which she described as full of bugs.
"Everybody has bugs, but Microsoft and the other major software vendors have come a long way," she said.