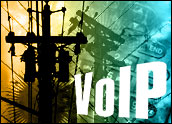 In a move that helps it keep pace and push ahead of rivals such as Google and could help it take on pure voice over Internet protocol (VoIP) companies such as Skype and even traditional telecom companies, Microsoft said it would buy privately held Teleo for an undisclosed sum.
San Francisco-based Teleo provides both software and services that enable traditional phones to be called from personal computer applications such as chat programs. Microsoft said it would merge Teleo into an existing VoIP unit within its MSN Web portal division, where its tools will be integrated into the MSN Messenger instant messaging platform.
Improved Communications Options
While many IM offerings, including Messenger, offer the ability to move from text chat to voice chat with other users also on PCs, giving users the ability to call traditional phones would be a move toward a territory now dominated by Skype, whose software enables a range of person-to-person communications.
Microsoft noted that Teleo, which was founded in 2003, had already built products to work with Microsoft's Outlook and the Internet Explorer Web browser for so-called "click to call" services, such as automatically dialing a number found in a Web or yellow pages search.
"Teleo has great technology to deliver superior VoIP quality and an excellent overall customer experience," said Blake Irving, corporate vice president of the MSN Communication Services and Member Platform group. "This acquisition opens up infinite opportunities for Microsoft to enable even more relationship-centric communications experiences for our customers in the future."
Microsoft said the executive team from Teleo would be retained as would "a number" of product developers.
Beyond Tradition
The timing of the move is noteworthy, since it came exactly a week after Google launched its much-hyped Google Talk product, the search giant's first foray into instant messaging, one that also includes a VoIP element.
But some analysts say Microsoft exhibited even larger ambitions with the purchase, looking beyond traditional Web chat to the opportunities to capture revenue now going to telecommunications companies.
While IM has traditionally been a free product, one given away in part to create loyalty among users, consumers are conditioned to pay for phone service. And portals could likely offer steep discounts that could woo customers away from telcos. In addition, the ability to merge search, especially local search, with Web-based calling — so that a person can find a local business and place a call to them from a single computer screen — holds enormous possibilities.
According to In-Stat, the market for VoIP calling was worth around US$230 million last year but will balloon to $4.8 billion within four years.
And everyone, from telecoms to cable companies, portals to pure-play VoIPs, wants to grab a piece of the market. While pure-plays such as Skype and Vonage — which is reportedly eyeing an IPO to fill its coffers for competition — have an early lead in terms of customers, the larger communications companies have a huge advantage, telecom analyst Jeff Kagan told TechNewsWorld.
"The big telcos and cable companies will probably control 80 percent of the market," he said. "But it will be a huge market and having a slice of the leftover 20 percent could be very profitable for many companies."
Looking Forward
Ovum analyst John Delaney told TechNewsWorld the move seemed to amount to Microsoft saying to Google: "Anything you can do, I can do better."
"Google Talk will let you use your PC to talk to other PC users over the Internet? Well OK, MSN will let you do that — and unlike Google, we might let you talk to people on their phones, too," Delaney said. "The rivalry between the big Internet portals is becoming increasingly intense. Google pushes into MSN territory in the form of Gmail and Google Talk. MSN pushes back into Google territory with MSN Search, and now with the new services that Teleo will enable. And there's definitely more of this jostling to come."
But Delaney said it may be too early to call either Google Talk or MSN with Teleo on board a threat to traditional telecom interests.
"Neither service does phone-to-phone yet, so although these Internet services could take some calls that would otherwise have gone over telco networks, they don't offer a direct substitute for telco service," he added.