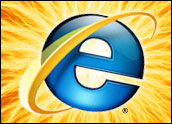 Last December, Microsoft's Windows Internet Explorer group announced that Internet Explorer 8, the next iteration of its Web browser, would be standards compliant, interoperable and backward compatible when it's released in the second half of 2008.
The group announced that IE8 has rendered correctly in Acid2, a complex Web page design that uses complex displays and little-used features that developers would like to use. While the test isn't supported by any official standards group, it's an indication that Microsoft is taking the open source development community seriously.
That the browser passed the test wasn't big news. That Microsoft was embracing the standards compliant and interoperability features marked a concession by the company that proprietary development of one of its key products could be nearing an end.
The new browser will allow the development community to create add-ons, drivers and utilities, while also ensuring that older hardware — such as printers — will continue to work with the new software, Laura DiDio, an analyst with Yankee Group, told TechNewsWorld.
"Backwards compatibility is essential if Microsoft wants to survive and thrive," said DiDio. "The way of the world is open. It's not 1995 anymore."
The Open Way
The shift in development comes as Microsoft faces challenges on many fronts: the Firefox browser, the European Union and even its own developer community.
The Mozilla Firefox browser has slowly eaten away at Microsoft's Internet Explorer domination throughout the past five years. Firefox is now in use on 17 percent of all computers, while IE usage is 77 percent.
That's not necessarily a worrying figure, but the growth of the open source Firefox browser is a symptom of a much larger problem for Microsoft, DiDio said. There is a rich developer community creating user-friendly add-ons and plug-ins for Firefox that make switching browsers much easier.
"Open source is a powerful lure," she said. "It's getting bigger and it's going mainstream."
European Discontent
Microsoft continues to also fight the European Union over repeated charges that its Media Player and Internet Explorer stifle competition.
Two months ago, Norwegian-based Opera Software, which makes a Web standards-compliant browser that runs on multiple operating systems, filed a complaint with the European Commission, claiming Microsoft's refusal to adhere to Web standards while bundling its browser with its operating system stifled innovation.
The complaint — filed Dec. 13 — asks the Commission to require Microsoft to unbundle its browser from the Windows operating system and adhere to Web standards in its future development.
"In addition to promoting the free choice of individual consumers, we are a champion of open Web standards and cross-platform innovation," Jon von Tetzchner, CEO of Opera, said at the time of the filing.
This comes on the heels of Microsoft's 15-year battle with the European Union regarding what Novell claimed was anticompetitive because of its licensing agreements. Throughout the initial — and subsequent — lawsuits, Microsoft has faced fines in excess of US$1 billion.
At some point, the software giant has to either continue facing scrutiny from the European Union and the open source community, or become more open with its standards and interoperability.
"They can appeal the judgments from EU, but if you're Microsoft you don't want to keep paying billion dollar fines while your competitors hit your over the head with the fact that they are open," said DiDio.
IE8 Judgment Day
In the end, though, the developers and users will cast the final vote on the success of Microsoft's move toward open development.
The forthcoming release of Internet Explorer 8, which will have an even greater unveiling at the MIX08 conference, which occurs March 5-8, has received mixed reactions from the developer community. Developers on the IE forums filled 77 pages with comments ranging from congratulatory lauds for Microsoft to muted wait-and-see responses.
"It's increasingly an open world," said DiDio. "If Microsoft can open up more, they will be more able to not only satisfy their customers, but they will be more competitive against the other open source distributions that are available."