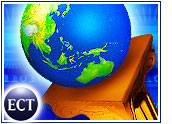 Microsoft is poised to offer a lower-priced, scaled-down version of its Windows XP and Office XP software to compete more effectively in Thailand — and similar developing markets — against the threat of open-source software.
The Redmond, Washington-based company is hoping that by lowering its prices and thereby releasing more legitimate software into markets like Thailand — where rampant piracy often hides the benefits of legal software — the company will be able to fend off the popularity of Linux.
"They would like to blunt the threat of Linux," Yankee Group senior analyst Laura DiDio told TechNewsWorld. "Software for many of these places, outside of Japan, is still very much a novelty. Microsoft is looking to compete on more equal footing in terms of cost. The other thing is [that the strategy] combats the bootleg stuff."
Entry-Level Effort
Reversing an earlier strategy to price its software consistently around the world, Microsoft said it will sell a lightened version of its Windows XP and Office XP desktop software and will provide pricing incentives in an effort to participate in Thailand's Information, Communications and Technology (ICT) program to spur adoption.
Microsoft announced this new strategy in the wake of several months of news indicating that Thailand and other developing technology markets increasingly are looking to Linux, which has the reputation of being less expensive or even free.
The Yankee Group's DiDio said that while Linux and other open-source software might be limited by lack of associated applications for home and office use, markets such as Thailand are going to be focused first and foremost on price.
"The initial foray into those countries is going to be price," she said.
Post-Entry Equity
Referring to Linux vendors such as IBM, HP and Novell — and the "monetization of Linux" — DiDio said there eventually will be service and support fees that go along with Linux in markets such as Thailand. But in the beginning, Linux has a leg up both because of perceptions in those markets and the real higher cost of Microsoft software, according to the analyst.
While there is a contention that Linux might be more immune to piracy because it is open source, the rival software could end up suffering the same fate as Microsoft, with bootlegged distributions bogging down reputation and consumer confidence.
DiDio said that as Linux matures and is increasingly connected to service and support costs, it will be in much the same boat as Microsoft's products.
"Unless Thailand decides to buy no-name Linux, it's going to look increasingly like Microsoft," she said, adding that Microsoft's efforts allow it to compete on price and also displace bootlegged software.
Undermining Use
After the almost-instantaneous piracy of a preview version of its next-generation Longhorn operating system in Malaysia last December, Microsoft made clear it is concerned about piracy's effect on its image.
In an e-mail response to TechNewsWorld, Microsoft said it is working "to prevent any actions that would undermine uses of or confidence in [its] technology."
The company said users of "genuine software" have access to technical support, updates and security enhancements as well as "the peace of mind that comes from knowing that they do not have to be concerned about audits or other legal troubles associated with unlicensed software."
Software piracy was blamed for US$13 billion in lost revenue worldwide, including $2 billion in lost revenue in the United States, and more than 100,000 jobs lost in 2002, according to the Business Software Alliance.
Appeasement over Aggression
DiDio said Microsoft's change in direction on low-priced, entry-level software for markets such as Thailand illustrates the company's changing ways, which come in response to a dynamic market that now includes "the challenge of trying to blunt the momentum of Linux in these places."
"They're moving very quickly to protect their interests, and they're doing it across the board," DiDio said, calling Microsoft's moves a contrast to those of similar-size rivals IBM, HP and Oracle.
"This is a very different Microsoft we've seen this year — and late 2003 — than we saw before," DiDio said. "They realize it's a different world now and they can't just continue bullying their way through. They're going to do what they have to do."