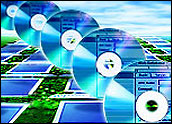 As the two sides pushing different standards for the next-generation DVD format continue to send mixed signals on a unified technology, Microsoft and Toshiba announced today they would be collaborating to create products compatible with the HD DVD format, which is competing against the Sony-backed Blu-ray.
Expected and predicted by some industry observers, the cooperation is an effort to combine the companies' software and hardware capabilities to more rapidly create next-generation DVD technology for consumer devices.
Analysts praised the move, calling it a logical strategy for the increasingly important consumer electronics market. However, they said the partnership — which will mean the use of HD DVD and the Windows CE operating system in new devices — will likely have no impact on the continuing fight for standard supremacy of either HD DVD or Blu-ray.
"It makes a lot of sense, and they're doing it for shorter development times and reduced cost," Gartner research vice president Van Baker told TechNewsWorld. "Will it do anything to resolve the issues in the format war? No."
DVD Direction
Microsoft and Toshiba said their announced collaboration, an expansion of the two giants' previous partnership, was an effort to speed up availability of new DVD devices for consumers.
The two will investigate development of HD DVD players using Windows CE for application in consumer electronics and computing, they said.
"This agreement demonstrates our desire to share our innovations with other companies in ways that promote the spread of new ideas — and benefit customers by accelerating the development of exciting new products," said a statement from Microsoft chairman and chief software architect Bill Gates.
The two companies will also work together on iHD, the DVD Forum's newest format for interactivity, they said.
Divided on Unification
The competing DVD standards have been developed and promoted separately, with each side touting technical and support advantages. Both formats have sizable companies — Toshiba and Sony and their partners — squarely behind them, and there are indications the battle will continue along the so-called Beta-VHS path, where different standards for video cassettes resulted in a confused market.
Gartner's Baker said as long as there are competing standards, the battle will continue. While Toshiba has stated that negotiations on a unified format have ended, Sony's president indicated in a recent briefing there was still a chance for a single next-gen DVD disc, according to Baker.
"Sony's holding out hope to do this," he said.
Amid the mixed signals, Baker and other analysts believe the consumer market will not respond well to another format fight, particularly if they are unsure which discs will ultimately be the standard.
"If they don't come to terms, this market's going nowhere in a hurry," Baker said.
Conflict Continues
Jupiter Research vice president Michael Gartenberg said it makes sense that Microsoft and its Windows CE will play a role in next-generation devices, including DVD players. However, the analyst also said Microsoft may also back Blu-ray in some way.
"It's really a question of supporting [the HD DVD format] in terms of the right drivers, as opposed to a strategic move," Gartenberg told TechNewsWorld.
The analyst indicated the odds of agreement on a unified format is unlikely, given the posture of the players involved.
"I think what's going to happen is this is not changing in any way, shape or form," he said. "There's going to be a battle, and no one's showing any sign of backing down."