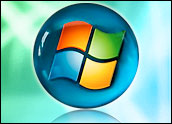 With the one-year anniversary of the launch of its Windows Vista operating system on the horizon, Microsoft for the past 10 months or so has been able to turn its attention to other projects. In particular, the software maker has been working to put out Vista's first service pack and a third service pack for its Windows XP operating system. The two software updates are designed to improve the performance and stability of their respective OS.
Microsoft has rolled out the final release candidate for the Windows XP Service Pack 3 (SP3), which has a scheduled release during the first quarter of 2008. Microsoft has also scheduled the release of the Windows Vista Service Pack (SP1) for sometime between January and April of next year.
A beta version of Vista SP1 was released to a group of private testers in September and the final release date "will depend on customer feedback and the quality of the beta," said David Zipkin, senior product manager, Windows Client.
PC users can expect the two SPs to come out within a few weeks of each other, with the Vista SP released to coincide with the launch of Windows Server 2008, said Michael Cherry, lead analyst at Directions on Microsoft.
"Microsoft will be promoting that the two things work better together. And you want to have both of them there," he stated.
Better Vista
With Windows Vista SP1, users of the operating system will have the benefit of receiving all the updates released for Vista throughout 2007 in one package. The SP also includes improvements to the OS based on customer feedback to Microsoft, Zipkin explained.
In addition to previously released updates, SP1 will contain changes focused on addressing specific reliability, performance and compatibility issues, supporting new types of hardware, and adding support for several emerging standards, he continued.
"SP1 also continues to improve upon the IT administration experience. SP1 is not intended to be a vehicle for releasing new features; however some existing components do gain slightly enhanced functionality in SP1," Zipkin told TechNewsWorld.
Adoption rates for Vista have lagged behind those of XP during the same time period following its release. So, the release of this first SP is particularly important for Microsoft as IT administrators traditionally begin planning to upgrade their machines to a new OS following the initial SP.
"Many admins still have a SP1 policy where they wait for the first service pack before deploying," said Gary Chen, a Yankee Group analyst. "Vista is really somewhat a victim of XP's success."
However, "while SP1 contains valuable updates to Windows, organizations don't need to wait to deploy and can experience the improved security, management and deployment benefits of Windows Vista today," said Zipkin.
The launch of SP1 could lead to an uptick in adoption for the new OS, but it will not be significant, according to Cherry.
"The big thing is it takes people time to test things. And then they have to work it into their regular [schedule] of work they perform. Not everyone has a whole bunch of [down] time just waiting for Microsoft to do something," he stated.
"I think Vista will roll out at a somewhat slower than expected but steady rate. It's never going to be so fast that everyone goes, 'Look at that.' But, it's not going to fall away to nothing," Cherry added.
XP Feels Its Age
It is six years and counting since Windows XP was loaded on its first PC and since then Microsoft has sold more than 400 million copies of the OS, according to a January 2006 estimate from IDC. The first service pack for the OS came in September 2002, 11 months after it hit store shelves. That SP contained security patches, hot-fixes, compatibility updates and a new version of Windows Messenger.
In August 2004, Microsoft rolled out XP SP2 that brought users an enhanced firewall protection and security in the form of Windows Security Center, improved Wi-Fi support, Bluetooth support and a pop-up blocker for Internet Explorer.
The upcoming XP SP3, put on hold while Microsoft pushed out Vista, has been in the works for more than three years. And while it is not unusual for the software company to put out a third or even fourth SP, XP's continuing popularity among PC users has prompted Microsoft to release one more service pack before it discontinues sales of the OS in June.
Wrapping It Up
"It's about to enter a new stage of its lifecycle. That is generally a good time to send out a service pack so that as it moves into the next port cycle you can say 'We need you to be at this release of the service pack.' It does two things for Microsoft. Because there has been a significant amount of time since there was a service pack for XP, it resets the baseline and provides all of the code up to a certain date. The second thing is they will update certain components that have changed, and bring them into the product as well," Cherry explained.
As with Vista, XP SP3 is a rollup that includes all the previously released updates for Windows XP, including security updates, out-of-band releases and hotfixes, Zipkin noted. The service pack contains a few new updates but should not significantly change the Windows XP experience.
"Windows XP SP3 will not include most Windows Vista features, with the exception of Network Access Protection (NAP). NAP is a capability of Windows Vista that is also being made available on Windows XP SP3 and will require Windows Server 2008," he added.
"XP is a very popular operating system and it is about time for a service pack," Chen told TechNewsWorld. And although "the popularity of XP has already affected Vista, I don't expect anything to really change with SP3."