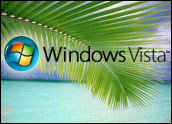 Microsoft entered the final stage before the countdown begins for the planned release of its first Windows Vista Service Pack in January. The software giant announced the availability of the Vista Service Pack 1 (SP1) release candidate (RC) for public download.
With the release came more specific details on the contents of Vista's first major update. Included in the RC are more than 300 so-called hot fixes that correct bugs in the operating system (OS) and improve the software's performance, reliability and security. With SP1, Microsoft has also added support for new hardware and standards.
"What you tend to get in a service pack is a lot of little improvements," said Michael Cherry, lead analyst of Windows and Mobile at Directions on Microsoft.
Servicing Vista
For most home users and many businesses, SP1 weighs in at a manageable 65 MB. When the final version of the service pack is released next month, updating to SP1 for these two categories of users will be done automatically via Windows Update. The small size of the service pack is due to Windows Update technology that uses an efficient transfer mechanism to download only the actual bytes changed, according to Microsoft.
However, those without Internet access and system administrators will have their hands full with a nearly 450 MB, five-language package — or a 550 MB update for the full 36-language package. To make the improvements included in this first service pack, Microsoft said it had to update a large number of individual files and components, which in part accounts for the large size of the service pack. In addition, Vista's language-neutral design meant that SP1 had to be able to update any possible combination of the basic languages supported by the OS with a single installer, Microsoft said — thus, the 550 MB update.
Among other tasks, SP1 corrects an optical disk formatting issue with Vista's Live File System and a problem that generates an error message when users try to query data from a column of the XML (extensible markup language) data type. Another problem Microsoft addressed is an issue that caused a delay as long as five minutes after boot-up with specific ReadyDrive-capable hard drives, according to Microsoft.
More Tinkering
Other improvements include a new compression algorithm for Remote Desktop Protocol sessions which should minimize streaming traffic by up to 60 percent; support for exFAT, a new file system supporting larger overall capacity and larger files that will be used in Flash memory storage and consumer devices; and support for Direct3D 10.1, an update to Direct3D 10 that extends the API (application programming interface) to support new hardware features, enabling 3-D application and game developers to make more complete and efficient use of the upcoming generations of graphics hardware.
"The thing with a service pack is, it can change right up until the time they ship it. But some of the things they've looked at improving make sense," Cherry told TechNewsWorld.
"One of them is when they transition from power states, such as resuming from sleep, they've done some work there. There's an issue with copying large numbers of files where Vista just slows to a crawl, and they've looked into a fix for that," he explained.
"They've made a couple of changes to features that I think are good. For example, the BitLocker feature could only secure one drive. [With SP1], BitLocker will secure all drives. Those are the kinds of fixes they have done," Cherry pointed out.
"[SP1] improves performance and reliability and makes it a little zippier," he concluded.