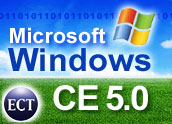 Promising a more integrated and economical development environment, Microsoft has released a beta of its newest embedded operating system (OS), Windows CE 5.0, at the Embedded Systems Conference in San Francisco.
The company touted cost savings that can be achieved using the new OS, thanks to the blending of command-line and graphical integrated development environments (IDE). Microsoft also pointed to increased support for drivers, chipsets and its DirectX desktop programming model, aimed at providing richer graphics and multimedia features that are closer to the desktop experience.
The software giant faces a much different situation in the market for embedded systems — smaller, lighter operating systems used in set-top boxes, mobile devices and other machines that are simpler than PCs — compared with its dominant position in the desktop operating-system sector.
"Within CE, Microsoft has not been number one," Yankee Group senior analyst Laura DiDio told TechNewsWorld. "So, in that situation, they're going to work harder to stay in the game, improve the software and play catch-up. That's what this is about."
Unified Development
Microsoft, which distributed preview copies of the new Windows CE 5.0 at this week's embedded conference, said the final release of the software should become available this summer. The preview also will be available for download through the company's developer network beginning April 1st, Microsoft said.
The company is hoping that by enabling developers to use the command line inside the graphical IDE, as opposed to switching between the two development environments, Windows CE 5.0 will save companies time and money.
"Unifying the tools capabilities is a brilliant move for Windows CE," said Doug Boling of embedded consultancy Boling Consulting. "Being able to work in one unified development environment where you only need to use that one toolset for building, debugging and deploying an operating system image will save OEMs a lot of time by reducing complex development issues."
Microsoft also said the new Windows CE 5.0 will feature increased hardware support out of the box, higher security settings, advanced multimedia capabilities and automated testing tools.
Big Windows, Little Windows
For his part, Gartner research vice president Martin Reynolds said Microsoft is trying to tie its desktop operating systems, such as Windows XP, closer to the embedded OS so that making something for CE also has value in XP.
"They're getting their development environment aligned on big Windows and little Windows," Reynolds told TechNewsWorld.
The analyst, who referred to the need for less-cumbersome operating systems in embedded devices, said the Windows CE 5.0 release is part of a larger goal to create a common feel in all Windows development, "from pager to desktop."
Tech Focus with Gates
The Yankee Group's DiDio credited the CE 5.0 effort in part to the more prominent role Microsoft head Bill Gates has taken since serving as chief scientist for the company.
"I can't tell you how much he's focusing on technology rather than business," DiDio said. "They've done a very credible job at really making their products work better."
She added that as developers seek to work with computing environments that will be profitable, they likely will be excited about the new Windows CE. However, DiDio also referred to gains by Linux, which is an attractive opportunity in the embedded space as well.
"Linux looks like green fields," she said. "It's getting better, and developers are going for that, too. Right now, you'd have to be a fool to ignore the Linux market."
Fragmented Market
Reynolds referred to a large field of competitors in the embedded operating-system market, with Symbian taking hold on mobile phones, Palm succeeding in handhelds and other consumer devices, and Linux, which is most prominent in the TiVO digital video recorder, also being backed by a Japanese consortium.
Indicating that the biggest challenge for all embedded players is price because of low profit margins in this space, Reynolds said the price issue has hampered Microsoft's embedded efforts. And while Microsoft does have strong developer and partner networks, he added that it is unlikely any company will dominate the embedded market because it is so fragmented.
"Microsoft is certainly not set to dominate as they have on the desktop," he said.