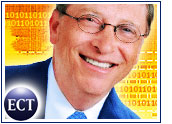 In one of the last settlements with states that sued it over antitrust allegations, Microsoft settled with Arizona, agreeing to US$104.6 million in vouchers for the state's consumers, who will each get up to $15 for purchasing Microsoft's operating system or applications.
The Arizona settlement, which coincides with settlements with North Dakota and Massachusetts — two states that threatened to prolong the antitrust case by resisting settlement with Microsoft earlier this year — brings to a close a longstanding antitrust battle that involved more than 20 states originally.
Analysts such as Meta Group vice president Steve Kleynhans said that the company is looking to move past its antitrust battle — during which the company was found guilty of monopolistic business practices — so that it can focus on other objectives, such as its next-generation Windows software.
"They're very committed to moving to a point that the whole episode is behind them so they can take on new challenges, like the Trustworthy Computing initiative and getting people to trust them and getting Longhorn into the market and accepted," said Kleynhans.
Settling with States
Marty Harper, an attorney with Shughart Thomson and Kilroy working with the state of Arizona, referred to Microsoft's $104.6 million settlement as the largest settlement for consumers in the state's history.
Kleynhans said Microsoft would much rather pay out the price of the settlements to take the focus off of its history of antitrust offenses.
"I think they'll quietly try to close these things up," Kleynhans said.
Analysts said that although Microsoft has successfully settled its previous antitrust issues with the U.S. and individual states, the historic case still affects how the company is behaving and will behave in the future.
Last Vestige of the Settlement
"This is the last vestige of the settlement [with the U.S. and states over antitrust]," Yankee Group senior analyst Laura DiDio told TechNewsWorld. "However, Microsoft still has to comply with the orders of Judge Colleen Kollar-Kotelly, and they're being monitored."
DiDio said that despite some criticism of Microsoft's compliance with the antitrust settlement earlier this year, the company is successfully living up to its end of the deal.
"Microsoft is nothing if not a pragmatic company," DiDio said. "They realize they are the company corporations love to hate. They realize there is a lot of competition from Linux. They realize that customers will sit on their wallets. It's in their best interest to comply and not get into this again."
Settling Here, Waiting There
However, Microsoft might be moving into antitrust waters again — possibly even deeper waters than before, thanks to the European Commission, which has indicated it plans to levy penalties atainst the company for alleged anticompetitive behavior.
Kleynhans said that the antitrust issues with the Europeans could take a long time to resolve, adding that in light of the time it took the U.S. to settle with Microsoft, it could take years with the EC.
Calling it "a harder nut to crack," DiDio said that the European Commission seems determined to impose some penalties on the software giant.
"It's going to be very, very hard for Microsoft — no matter what evidence they show — to change the EU's ruling," DiDio said.