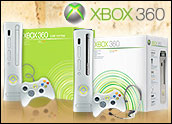 The opposing camps in the high-definition DVD wars were in the midst of a fresh round of fire Thursday, when Microsoft announced a US$20 price drop and free bundled movies on its Xbox 360 HD DVD Player.
Starting Aug. 1, the price of the Xbox 360 add-on will fall from $199 to $179, the company announced at Comic-Con International. In addition, in an extension of Toshiba's "Perfect Offer" of five free HD DVD discs — previously exclusive to Toshiba HD DVD Players — consumers who purchase the Xbox 360 HD DVD player between Aug. 1 and Sept. 30 will be able to choose five free movies from a list of 15 through a mail-in offer, providing a $140 retail value at no extra charge.
"With the price reduction to $179, the Xbox 360 HD DVD Player continues to be the most affordable way to enjoy high definition," said Jeff Bell, corporate vice president of global marketing for the entertainment and devices division's interactive entertainment business at Microsoft.
"From the beginning, we set out to offer Xbox 360 owners an unrivaled high-definition experience, with a choice of optical discs on the HD DVD format and digital downloads through Xbox Live Marketplace — both of which have a selection of the best content Hollywood has to offer," Bell said.
A Targeted Coup
On the Blu-ray Disc side, meanwhile, Sony announced Thursday that Target has chosen to carry exclusively Sony Blu-ray Disc players in its stores beginning this fall and extending at least through the holiday season.
The Sony BDP-S300 Blu-ray Disc player will arrive in Target stores in October as part of a holiday feature endcap highlighting the consumer benefits of Blu-ray Disc technology. The endcap will also feature an expanded list of movie titles from a variety of Hollywood studios, Sony said.
Target's decision comes just weeks after Blockbuster also announced that it was committing to Blu-ray as the format for the movies it will carry in its stores.
"Target's decision to promote Blu-ray Disc players in the fourth quarter sends an important message to those who may still be sitting the high-definition fence," said David Bishop, president of Sony Pictures Home Entertainment. "This promotion from Target and Sony will lend further credibility to the benefits associated with Blu-ray Disc technology."
All-Out War
The Blu-ray Disc and HD DVD formats are vying to become the next-generation standard that will replace today's DVDs. The HD DVD format is backed by a consortium headed by Toshiba, while Blu-ray is backed by a group led by Sony.
Until the dust settles, consumers face a difficult choice as to which format they invest in. To tip the scales in their favor, both sides have been announcing price cuts and bundling offers to sway consumer preference. Sony, for example, recently dropped prices by $100 on its PlayStation 3, which includes a Blu-ray player.
Content availability has also been a differentiating point. In a move to ramp up HD DVD content offerings, for example, Microsoft on Thursday also unveiled exclusive content for its Xbox Live Marketplace. Starting Aug. 14, Xbox Live will offer Warner Bros. Home Entertainment Group's "300" on-demand in HD.
For a limited time, Xbox Live members will also be able to download for free the pilot episode of Universal Studios' "Heroes: Season 1" in high definition in advance of the street release date, as well as trailers, teaser scenes and other promotional materials, the company announced.
"We have definitely seen some heated battles between the HD DVD and Blu-ray camps," Michael Cai, director of broadband and gaming with Parks Associates, told TechNewsWorld.
"If Microsoft did not drop its price and start bundling movies, this Xbox add-on player could be more expensive than a stand-alone Toshiba player — there wouldn't be any market for it," he said.
Blu-ray in the Lead?
"Price drops are always good," agreed Adrienne Downey, senior analyst with Semico Research.
"Both Blu-ray and HD DVD still have a ways to go before they become a mass-market thing, and this will certainly help HD DVD out," Downey told TechNewsWorld.
The support of Blockbuster and Target may indicate that Blu-ray is gaining ground, particularly when combined with the fact that Blu-ray has gained the support of every major Hollywood movie studio except Universal Pictures, which has committed to HD DVD exclusively. In addition, Toshiba lowered its sales target for high-definition DVD players and recorders last month because of disappointing sales figures in the United States.
Muddy Waters
"The momentum is shifting toward Blu-ray, so Microsoft had to respond," Jim Nail, chief strategy and marketing officer with Cymfony, told TechNewsWorld.
Will Microsoft's move be enough to sway a significant number of consumers?
"When it comes to Xbox and PS3, what we've seen is that the primary driver of the buying decision is the gaming aspect, not the movie aspect," Nail said. "People will make that decision based on the strength of the game system."
Ultimately, how the battle plays out is difficult to predict, Cai concluded: "There are a lot of factors here making the water very muddy."