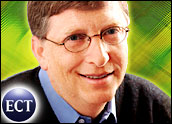 After its initial print-advertising offensive against the Linux operating system in the United States this month, Microsoft soon will be telling U.K. technology professionals to "Get the Facts" as it broadens its cost-benefits campaign overseas.
Microsoft initially launched the multimillion-dollar marketing campaign — which details cost savings of Microsoft Windows deployments compared with Linux deployments — with print ads in the United States and India at the beginning of the year.
While analysts tend to agree it is impossible to claim cheaper deployment — given the wide array of platform configurations — they said Microsoft's total cost of ownership (TCO) research could be a guide for IT purchasers to apply to their own unique situation.
"You need to use these things as guidelines to look at where you are," IDC analyst Al Gillen told TechNewsWorld. "They let you know what the comparisons look like. To say they apply to any and all configurations is a leap you can't make with a study."
Cost and Quality
On its "Get the Facts" Web site, Microsoft presents data from researchers such as IDC and Meta Group along with its own findings to argue that Windows TCO is actually less than Linux TCO.
However, Yankee Group senior analyst Dana Gardner said the variety of factors and variables — such as type of organization, time frame for the rollout, and qualitative issues like productivity and core competency — make it difficult to make broad claims.
"It's a hugely complex undertaking to weigh all of the factors involved," Gardner said. "It's not just dollars and cents. You need to take the qualitative issues into account. Something may be cheaper, but at the same time, you might not be getting the productivity and quality of experience."
Threat Validation
In response to the anti-Linux campaign, for which Microsoft has not disclosed the exact expense, Linux advocates have called the advertising a validation of the open-source operating system and its threat to win market share away from Windows.
Gillen said Microsoft's new ad campaign marks a change in the company's stance toward Linux, which has evolved from merely ignoring it to attempting to discredit it and, finally, to viewing it as a legitimate competitor.
"It makes sense," Gillen said. "Microsoft cannot ignore Linux, and simply dismissing it doesn't make any sense."
Gardner said Microsoft's move to undertake the ad campaign highlights the fact that Linux is the biggest strategic threat to Windows.
Mixed Reality
Gardner also said that while both Windows and Linux might have cost advantages in particular deployments and uses, the two operating systems are rarely deployed exclusively in one environment.
"This is not an either-or equation," he said. "They're not mutually exclusive. Obviously, a lot of people have extremely heterogeneous environments."
He said Microsoft's anti-Linux efforts come in response to inroads made by Linux in the server market, which represent a more formidable threat to the world's largest software company.
"It used to be as simple as [Microsoft's] .NET versus [Sun's] Java J2EE," Gardner explained. "What's continued to happen is it's Java on Linux, not just Java. The combination of the two is probably going to pose the biggest threat to them."
Cross-Atlantic Resentment
Gardner also said U.K. and European governments and trade organizations might pose a problem for Microsoft because of an element of nationalism.
The analyst noted that there might be favoritism toward Linux across the Atlantic as IT buyers seek to prevent euros from flowing to U.S.-based Microsoft.
"The software industry in Europe has been slim pickings for the last 20 years with the notable exception of SAP," Gardner said. "There might be some resentment that the U.S. has been so dominant in IT in Europe."