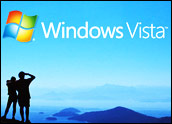 Microsoft believes it will be on target for the release of its long-awaited Vista operating system, but the company wants to ensure quality before sending it to the masses.
"We will ship Windows Vista when the product is ready," Kevin Johnson, co-president of Microsoft's Platforms & Services Division, said during an analyst meeting Thursday. "At this point in time, there is no data or information that says we are not going to make the November business availability or the January consumer availability. However, we're going to ship the product when it's ready, and we're just going to take it milestone by milestone."
The market was not happy with the noncommittal explanation; Microsoft's shares closed down 2 percent at US$23.87 on the Nasdaq on Thursday. However, Mike Burk, product manager, Windows Client Division, stressed the company's progress.
"We have had overwhelming demand for obtaining Windows Vista Beta 2 for testing (two million downloads and users), and have received positive feedback about the product's progress," Burk told TechNewsWorld. "We are continuing to take input and improving the product, and expect to release [candidate 1.0] of Windows Vista this quarter.
"Windows Vista is feature complete, meaning that at this point in the development cycle we do not expect to make any major feature additions or subtractions," Burk said. "However, we are continuing to take in customer feedback, and we will continue to make minor adjustments and revisions to the fit and finish of the product as we prepare for final availability."
Pricing will be announced closer to the time of availability, but the company does not expect significant changes in its pricing strategy. However, Johnson added, Windows Vista Ultimate is a new SKU, and will be sold at a "modest premium versus today's offerings."
Slow and Steady
Assuming there is yet another delay, Microsoft will miss the crucial holiday shopping season.
"It's bad news for hardware manufacturers, bad news for Santa, good news for users," Rebecca Wettemann, vice president of research for Nucleus Research, told TechNewsWorld. "It means I can't have that hot new operating system in time for Christmas. It might be a short-term pain for Microsoft, but what users really need is a stable operating system that's easy to use."
Software companies that ship products without extinguishing the bugs typically see faster short-term results, but ultimately it's an expensive venture and it's better to iron out all the kinks before shipment. Following best strategies, in the long term companies that push development schedules to ship as bug free as possible are the ones that prosper, Wettemann said.
Microsoft supported that sentiment. "As we launch Windows Vista, job one is we're going to ship a quality product," Johnson said. "From a platforms and services standpoint, these three things are important: Are we delivering compelling user experiences? Do we create the environment for third parties to innovate? And are we driving clear business value to the specific audiences that we have targeted?
"Along the way, we're going to stay focused on how to deliver compelling experiences for users; how the platform enables those experiences; how the platform is this environment for innovation, for developers, IT professionals, for our partners to innovate and create value; and how this platform has line of sight, clear business value for business decision-makers, advertisers, and how we can continue to drive that," he said.
Need for Focus
Microsoft is gaining visibility just by the sheer number of people who use its products — Windows sits on more than 90 percent of the world's personal computers, according to industry estimates. The bigger issue is a question of Microsoft's ability to focus and execute on a number of business units, Wettemann said.
The company might have its hands in too many projects, she explained. For example, it recently announced plans to release a new music and entertainment player and accompanying software and hardware products under the brand "Zune" to compete with Apple's popular iPod.
"It needs to concentrate on which products are likely to deliver the most value to customers," she said. "Those are the ones they should be focusing on and the interesting products should go on the back burner."