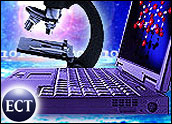 A Singapore biotech company announced Thursday that it has produced and stored four new clinically compliant human embryonic stem cell (hESC) lines, and that another four lines should be stored within the next four to five weeks.
ES Cell International (ESI) believes it is the first in the world to create these cell lines under the strict cGMP, or current Good Manufacturing Practice, standards, but that claim has yet to be verified. All of the lines will be made available to academic researchers through A*STAR Singapore Stem Cell Consortium, according to the company.
Future Implications
The SSCC Stem Cell Bank will be responsible for distributing the cells around the end of this year for a "modest cost without IP reach-through," according to Alan Colman, chief executive of ESI.
ESI expects this development to facilitate laboratory research while allowing users the option of later securing clinically compliant versions of exactly the same cell lines they are using for research.
"We are very excited about this development, which has tremendous implications for the research with hESCs as a source of new cell therapies for the future," Colman said.
"We hope the take-up rate of the research-grade material will be high, as researchers should be encouraged by the prospect of a simpler transition of hESC-based cell therapy applications from the laboratory to the clinic," he added.
Effects of President's Veto
The announcement comes shortly after President Bush vetoed the Stem Cell Research Enhancement Act, which would allow the use of U.S. federal funds to study human embryonic stem cell lines.
Vetoing that act means that making or researching those cell lines in the United States using federal money is illegal, explained Heather Rooke, a spokesperson for the International Society of Stem Cell Research (ISSCR).
"This makes it very difficult in a lab situation to study them because you have to separate everything — that's logistically really [difficult]. So people are going back and using very old cells," Rooke told TechNewsWorld. "ESI wants people to study their cell lines so they become increasingly valuable as potential therapy."
The ISSCR strongly supports the Stem Cell Research Enhancement Act and believes it will accelerate research dedicated to finding better therapies for patients suffering from a wide variety of diseases.
Which Came First?
Most existing hESC lines were derived using mouse feeder cells and do not meet the strict cGMP standards. ESI claims that its new cells "incorporated the use of cGMP-qualified human adult feeder cells that are also currently being used for therapeutic purposes in the U.S." In other words, animal cells were not used, and they are therefore safe for clinical use in humans.
Published reports indicate that California-based Geron also claims to have purified its cell lines to pass regulatory requirements, but it seems as though Geron has cleaned up the cells, whereas ESI derived cell lines under these standards. Time alone will tell which company came first.
"That's a natural part of progress," Rooke said. Even with aspirin, development may have begun in a university lab somewhere, but it takes a while to get to the point that it is so pure and clean it could be sold in the market, she noted.
Overall, the standards are necessary, and this announcement shows significant progress, Rooke declared. Still, it is important to remember that it will be a long time before these cells will be approved for insertion in the human body or therapeutic use. "It's not like this is a breakthrough where this will be a cure tomorrow," she said, "but it's a technological step forward."