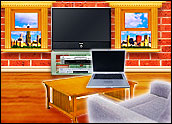 Viacom is giving a new meaning to the adage, "I want my MTV."
MTV Networks UK & Ireland — which Viacom owns — on Tuesday unveiled MTV Flux, an interactive online community that lets audience members control their own television channel.
Flux members can upload their own content and be part of the online interactive community when the new channel launches on Aug. 1. Users will be able to "flux" by mouse, mobile device or the traditional remote control.
Users can register online for free at mtvflux.co.uk. Then they will be asked to create their own personalized avatar, which will become their on-screen identity.
They can select a basic avatar design and transform it into the image they want to represent them in the Flux community. The avatars were designed by Nexus and resemble Japanese animation — with the ability to walk, talk and show their emotions, giving more of a digital life to the real people they represent.
Networking Opportunities
"MTV has always had an unparalleled relationship with our viewers. With MTV Flux, we are confident that the service is exactly the kind of 360-degree, immersive and interactive music and entertainment experience our audience is seeking," said Angel Gambino, vice president of commercial strategy and digital media at MTV Networks UK & Ireland. "MTV is challenging the status quo in TV programming and transferring control directly to its audience."
The company is positioning Flux as adding "a whole new dimension to the concept of social networking," Gambino said. The environment rewards community interaction so the more users flux, the more screen time they earn and the more say they get as to what appears on TV, beginning Sept. 6.
Both the Flux TV channel and the Web site will carry advertising, but there will be no charge for using the Web site or uploading videos, according to published reports.Advertising potential is unlimited, according to Debra Aho Williamson, senior analyst at eMarketer. Marketers will spend an estimated US$280 million in the United States alone to advertise on MySpace and its competitors in 2006. By 2010, that online advertising spend will grow to $1.8 billion, she estimates.
Advertising Advantage
"There are so many opportunities to experiment and learn how to work with user-generated content and to do word-of-mouth campaigns," Williamson told TechNewsWorld. "The greatest benefit is potentially building a better relationship with your customers."
Social networking allows advertisers to send an individual message to one person instead of a mass audience. Then that person can choose to spread the message further, essentially doing the company's legwork.
While the benefits are apparent, the risks are just as strong. If advertisers hit social networking sites and are perceived as invasive or insincere, they face potential community backlash and public relations disasters.
"They can badmouth you and post negative comments or take what you offered up and twist it into something else," Williamson said. "Marketers need to decide in advance what to do if this happens."
Categorizing Interests
MTV faces hefty competition in the UK, especially with the popularity of Bebo in addition to MySpace. However, the network's strong brand and popularity with teens in the music space could be the standout benefit it needs to succeed, Williamson said. "As social networks morph over the years, you'll see them develop into subcategories of interest," she said.
While the number of profiles obviously affects the number of advertisers, niche marketers looking for targeted campaigning opportunities may see better results focusing on smaller communities with more compact interests. "Companies haven't mined it to the fullest potential — mostly because of privacy concerns," Williamson said. "But the more relevant you become, the more responsive people will become."