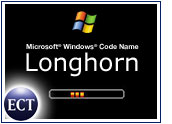 Now that it has more firmly projected 2006 as the year it will deliver the next-generation Windows operating system, known as Longhorn, Microsoft is cutting overly ambitious parts of the software to avoid delays and ensure quality.
The industry, which has been promised much by Microsoft with its talk of a revolutionary new file system and tighter security, is not overly anxious for Longhorn, but even so, the software giant — as well as chief software architect Bill Gates and top developers — may have a hard time letting go of some features and functionality, Yankee Group senior analyst Laura DiDio told TechNewsWorld.
"It's difficult because they have specifically confirmed what's going to be in it," she said. "The hardest thing for these guys is always letting go."
Lightening the Load
But according to published reports based on company e-mails that signal a reduction of components in Longhorn to enable on-time shipment and better quality, Microsoft is letting some things go. Programs reportedly being deferred include a major file system change, while the company has elevated security to an even higher priority.
Meta Group vice president Steve Kleynhans told TechNewsWorld that as Microsoft battles security and other issues on several fronts, it is not surprising that it is prioritizing and paring its Longhorn efforts.
"Longhorn is a tremendous undertaking," Kleynhans said. "As big as Microsoft is, they don't have unlimited resources, and you just can't do everything at one time. There was obviously going to be slippage."
Kleynhans, who said he is not surprised that Microsoft is now targeting a 2006 Longhorn release, added that he believes the date may still be optimistic.
Keeping Commitments
Kleynhans said that while Microsoft likely will reveal even more Longhorn plans and details at upcoming events — including a developers conference in the fall — the company must walk a fine line in its "machete programming phase" of cutting programs and prioritizing them.
"They've made a lot of commitments to the industry," he said. "It's going to be an issue of taking things out, and it's tricky — Microsoft doesn't want to break promises, and it doesn't want to limit value expectations."
DiDio said the industry is not expecting Longhorn until at least 2006 and there will not be an uproar if it is pushed out even further. However, she added that customers who purchased software assurance along with Microsoft software expected the next-generation Windows system sooner, and they may feel disenfranchised with the delays.
Among the likely cutting-block items, DiDio said, are graphics capabilities, voice integration and platform integration.
Security Surely Unscathed
With its repeated pledge to place security higher on its agenda, Microsoft is certainly not going to cut any of the security aspects of Longhorn, which, according to Kleynhans, are among the more significant parts of the new operating system.
Likewise, DiDio indicated that security, .Net, XML, remote access and management will be among the next-gen Windows initiatives that are not trimmed.
She said that although the market is not demanding Longhorn, Microsoft is making the right decision to ensure it is not taking on too much. "Customers don't need the perfect package," DiDio said. "Customers are most interested in this thing [working] right the first time."