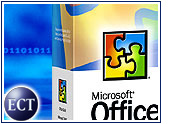 Calling its new office package an evolution from stand-alone, desktop applications to a more integrated software system, Microsoft has announced that Office 2003 is priced and ready for manufacturers.
Aiming to up the stakes in the office software market, the Redmond, Washington-based software company called the release the most powerful iteration of Office to date and pitched it as an integrated system that is closely connected with Windows rather than a mere collection of separate applications.
Analysts were mixed in their attitude about how significant a shift Office 2003 represents. The software retains traditional programs, such as Word, Excel, Outlook and PowerPoint, but also adds several new tools, including OneNote, a note-taking application, and Infopath, a data tool that relies on extensible markup language (XML).
However, there was general agreement that Microsoft has taken Office beyond traditional document-creation capabilities. It has become clear that Microsoft is envisioning a much larger role for Office in the company's future software strategy.
"This is much more complex and truly is a system rather than [just separate] applications," Yankee Group senior analyst Dana Gardner told TechNewsWorld. "It raises the bar of competition. This is a triad of tools, platform and client that's virtually unrivaled in the industry."
Late for the Office
Despite previous announcements about a June release, Microsoft was late in unveiling Office 2003 because of the need for more testing. The company said the software, which retains Office XP pricing, is now available to manufacturers and will be released to retail customers on October 21st.
Gardner said that because of interdependencies across many other Microsoft products — such as Excel, Exchange, SharePoint and new products including developer tools — Office 2003 testing took longer than the company anticipated.
Gardner, who also referred to Microsoft's recent security and quality initiatives, added that it made sense for Microsoft to wait for Windows 2003 to release the new Office.
"One plays off the other," he said. "That's essential because the value of the Windows system is tied to Office; they both go together, and that creates an adoption cycle for Microsoft."
System over Stand-Alone
Calling the release a milestone, Microsoft said the Office system represents "an important evolution from stand-alone desktop applications to an integrated, comprehensive tool set."
Gardner agreed the software marks a significant shift in the landscape from "browser-focused" office applications to a melding of client-server technologies with Internet and standards-based network technologies.
Meta Group vice president Steve Kleynhans, however, told TechNewsWorld that while Office 2003 is "a bold step forward," it might not be as significant as Microsoft claims — at least not yet.
"They have a lot of good piece parts," he said. "They're just not quite yet coming together — right now, it's more of a marketing spin."
Kleynhans said that in two years or so, with another new version of Office and Microsoft's planned Longhorn operating system, there might be more synergy between the pieces.
Joining Front and Back End
Gardner, who called Office 2003 a higher value with significant productivity gains, said the software takes an end-to-end approach as opposed to the linear architecture of the past.
"You can start working toward Web services relying on XML as the interoperability system between back-end systems and front-end applications," he said.
Kleynhans said the new Office 2003 — priced at US$399 for the standard edition and $499 for the professional edition — consists of minor improvements to traditional programs, such as Excel, and entirely new applications, such as OneNote and InfoPath.
"It really is the core of what they're going to be doing with XML down the road," Kleynhans said of InfoPath.
Complex Competition
Kleynhans added that while Office competitors have done a good job of "cloning features" up to this point, Microsoft is attempting to change the playing field with Office 2003.
"Now, it's not just about a better tool for word processing," he said. "[Competitors] will have to start dealing with other complexities Microsoft is putting into the Office system. They're trying to really expand the role Office plays."
Gardner said Office 2003 puts pressure on Microsoft competitors, such as Sun and IBM, and alternative products like StarOffice and OpenOffice.
"I think we'll see this emulated," he said. "As Office goes, the world goes."