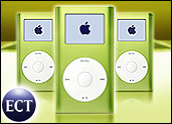 Hoping for even bigger market share with a smaller portable music player, Apple has been heavily promoting its iPod technology in the form of the iPod mini, which the Cupertino, California-based company indicated this week is selling wildly among music and technology fans.
Apple found sweet success last year with the original iPod, which, paired with legitimate song service iTunes, has won the company dominant market position in both market sectors. Apple said it intends to broaden the market further for iPod by pushing the mini version — a 3.6-ounce player capable of holding 1,000 CD-quality songs.
Early indications are that iPod mini, which garnered more than 100,000 preorders since being announced in January, is outdoing the success of the original iPod, which sold 125,000 units in its first quarter of availability, Apple said.
"The customer response has been incredible — it's just been off the charts," Apple worldwide iPod marketing manager Danika Cleary told TechNewsWorld. "It's meeting and exceeding our expectations."
Style Factor
Referring to long lines at Apple stores for the iPod-mini debut, Cleary said the smaller player, priced at US$250, is riding the wave of popularity generated by the original iPod, which Apple has sold to more than 2 million customers. The company sold 730,000 of the music players during the holiday quarter alone, she reported.
"There's a style factor," Cleary said of the iPod mini shipping in silver, gold, pink, blue or green. "IPod has just become an icon. It's a brand that people want to associate themselves with."
Apple senior vice president of worldwide marketing Philip Schiller touted iPod mini's capacity, which is 16 times the amount of music held on a typical flash-based player that costs about $200.
Integrated and Easy
GartnerG2 analyst Mike McGuire credited Apple's success with the initial iPod and now the current miniature version — which he described as "an impressive little unit" — to a combination of the company's licensed music store, technology, form factor and advertising.
"You really have to take all of these things into consideration, and you can't discount [Apple's] strength in creating compelling marketing campaigns," McGuire told TechNewsWorld.
He added that customers appreciate the integration between iPod and the iTunes store and other software, which the analyst expects Apple and its developer partners will continue to improve.
Cost, Complexity Challenges
While Apple touted the superiority of the 4-GB iPod mini to a typical 256-MB flash-based digital music player, the company might find it is most susceptible to assaults on the basis of price, according to analysts.
Cleary, who pointed out that the original iPod debuted at $400 and now sells for $300, said Apple will do what it takes to keep the device competitive with other players on the market.
"We try to move pricing down, and we want the product to be acceptable to as many customers as possible," she said.
Testing the Model
McGuire said one of Apple's hurdles to maintaining its market dominance with the iPod players is keeping them simple.
"I think one of the challenges — and people who are working there at Apple on this are cognizant of it — is making sure they don't add too much," McGuire said. "Then it becomes more like a PDA and less like a portable music player, which I think would be a very bad thing."
The analyst, who predicted more development of the Apple iTunes store and software applets from third parties for the iPod, also indicated the industry is watching to see what happens with Apple's business model.
"They're humming along, but it's not an unobstructed path to success," McGuire said. "It will be interesting to see how long the business model will be profitable."