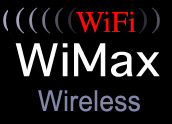 Motorola and Intel have again stressed their intentions to work toward interoperable networks and devices for next-generation, wider mobile computing via WiMax, which has yet to be ratified as a standard, but nonetheless has the weight of such major players behind it.
Industry analysts, however, questioned the companies' assertions made at the recent WiMax World Conference that WiMax was on a fast path to integrated, wide-area wireless coverage, and indicated the promise of WiMax is still a number of years away.
"We think it's probably further out toward 2009 or so," Gartner vice president of mobile computing Ken Dulaney told TechNewsWorld.
Full Mobility
Intel, which helped make 802.11 WiFi wireless a popular offering for both consumers and corporations, said its collaboration with wireless device leader Motorola, coupled with WiMax standardization, would drive a new era of wider coverage.
"WiMax is beginning to deliver on its promise to provide broadband wireless access to businesses and consumers, and the promise of full mobility is around the corner with the anticipated ratification of the 802.16e standard," said a statement from Intel Broadband Wireless general manager Scott Richardson, who referred to the WiMax specification.
He added the work with Motorola will allow development and testing required for "truly mobile broadband."
Carrier Competition
Gartner's Dulaney, however, said WiMax is limited because it is only a data service, does not enjoy agreement on standardization, and lacks a business model, which would require users to pay regularly.
"The question is how will these guys match up against the 3G guys, who are dedicated to not losing this," he said, referring to wireless carriers push their own voice and data wireless technologies.
Dulaney, who also questioned Intel's promise to put WiMax capabilities into laptops for free, indicated although the hardware giant can throw its weight behind a technology, WiMax still faces significant challenges.
"There's no denying their marketing clout, but there are problems with the business model — it's not as well thought out as it should have been," he said.
For Today, Future
Ovum vice president of wireless telecoms Roger Entner said the recent statements about WiMax by Intel and Motorola amount to a reiteration of their commitment to the wireless technology.
Entner contrasted WiMax, which has not been substantially demonstrated, with another wide-area wireless solution, Verizon's EV-DO, which is further into the development cycle and is in use today.
"I just want to see [WiMax] in the lab," Entner told TechNewsWorld. "We haven't, because it's not ready, yet. We don't know yet how WiMax will actually perform."
Still, the analyst added that while other solutions, such as EV-DO, may not have as much headroom, WiMax is just starting and promises more improvement in terms of its wireless capabilities.