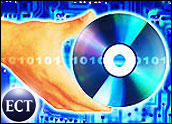 In a move that could help unlock the potential for selling feature-length movies over the Internet, Movielink Monday said it had reached an agreement to license technology allowing downloaded movies to be burned onto DVDs by users.
Movielink said it had licensed the technology to allow DVD burning but retain digital rights management (DRM) controls to avoid piracy from Sonic Solutions. Financial terms of the deal were not disclosed.
Market Explosion
The deal also calls for Sonic to include the Movielink Service within its Roxio CinePlayer and other Sonic software applications, which are sold to device makers and directly to consumers.
"We are anticipating an industry resolution to establish rules for converting secure Internet-delivered Movielink downloads into a secure format compatible with DVD players in the market today," said Movielink CEO Jim Ramo. "This gives consumers a more flexible product while providing copyright holders with adequate protection of their content."
The Web-based video-on-demand marketplace is poised to explode, but with some key hurdles need to be lowered in order for widespread adoption to take place. One of those is to give users the ability to transfer media downloaded via the Web onto traditional DVD players, which will continue to serve as the main vehicle for viewing movies until the networked home-entertainment systems of the future gain traction.
Studios have been reluctant to allow burnable versions of their movies to be made available for download, however, because of fears that such media can be easily copied, or even mass-copied and would encourage widespread piracy.
Enhancing Value
Currently, Santa Monica, Calif.-based Movielink offers users the option of renting a film, which can be viewed for a limited time, for US$1.99, or buying it outright for prices comparable to those found in retail stores. Those purchases only allow a user to store the film on hard drives, however.
Ramo called the partnership with Sonic "a critical advancement" that will "enhance the value of our service."
Jim Taylor, senior vice president of the Advanced Technology Group at Sonic, said the fact that more than 100 million DVD players are in homes across the U.S. represents a massive market opportunity. Currently, most DVDs are rented from stores such as Blockbuster, purchased in retail stores or online, or rented though Web-based rental services such as NetFlix.
"We are combining the flexibility and convenience of Internet video distribution with the permanency and portability of the DVD video format," Taylor said.
Web-based video distribution is getting heavy attention and investment from Hollywood studios and other major players, such as Amazon.com, which is reportedly working on a downloadable movie platform of its own, and Apple, which has held extensive discussions with major studios about offering movie downloads through its iTunes Music Store.
The Sonic technology may have additional advantages, including familiarity among consumers. Some 250 million copies of its software are already in use, much of it having come pre-installed on personal computers in recent years.
The core of the partnership is a new DRM technology Sonic developed for the Movielink partnership, known as AuthorScript DVD on Demand, which will enable limitations placed on downloaded media by copyright holders — mainly movie studios — to be kept in place as the DVD is burned.
Pricing Key
Pricing of the service has not been announced and that could be a key element. While consumers often use the Web over traditional retail because of the convenience involved, movie buyers may look for sites such as Movielink to pass along some of the savings presumably found in the direct-digital distribution model, which eliminates the need to burn DVDs, package and ship them to stores.
Homes will need to become far more networked than they already are for initiatives such as Apple's to rise as major forces in the video distribution marketplace, Piper Jaffray analyst Safa Rashtchy wrote in a recent research note. Most home networks don't yet include television sets, he added, but that will change over time, as more sets are shipped with built-in wireless networking chips and other technologies.
Those and even "newer solutions introduced over the next few years could greatly expand the appeal of video downloads and steaming media," he noted.
Incumbents such as Apple and Amazon, which already have strong brand affinity among consumers as well as built-in customer bases, may have long-term advances over more nascent sites such as Movielink, according to JupiterResearch analyst Todd Chanko.
It appears the studios prefer to find partners that can handle the download technologies, Chanko added, as well as much of the heavy marketing lifting than to build their own distribution networks, though that remains a card they can play in negotiations and something they can choose to pursue as the market grows. "The ability to burn downloaded movies onto DVDs is a huge link that's been missing in the past," he said.