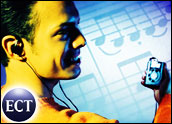 To online file-traders, it is the original, pure file format for digital music. To the recording industry, it is a pirate ship that has been the basis for copyright violation and lost revenue. Regardless of what it once was and is now, the MP3 format is getting a facelift to include copy protection.
The move — reportedly under way by MP3 patent holder and licenser Thomson and Fraunhofer of France — already is being criticized as a control grab by record companies and other copyright owners.
GartnerG2 research director Mike McGuire, however, said the fate of the format — which, although it is the original and most popular file-trading standard, must now compete with Apple's AAC and Windows Media Audio (WMA) — depends on how much control content owners get, how the digital rights management component is added and whether it is used by legitimate online music services.
"It comes down to the issue of how it gets implemented, how copyright owners use it and whether the online music community embraces it," McGuire told TechNewsWorld. "Plus compatibility," he added, referring to potential media-player issues. "If it's not compatible, the answer to that will be less than incredible."
File Traders Fume
While it was once the de facto music file standard, MP3 now is facing stiff competition from competing formats supported by Apple and Microsoft. Those formats have been fueled by player sales and legitimate online music stores that include digital rights management (DRM) technology to prevent users from sharing files wholesale.
But as the favored format of unlicensed, peer-to-peer (P2P) networking sites, MP3 remains open and unrestrained by limitations of hardware, copying and transferring.
The plan to add DRM to MP3, which reportedly would be achieved through open standards created by the Moving Picture Experts Group (MPEG) and Open Mobile Alliance, was met with sharp criticism that it amounts to the death of MP3. For some, criticism of the move evokes the reaction to the new version of Napster, which transformed the original song-swapping service into a legitimate, copyright-protected one.
A Thomson company representative indicated the copy-protected MP3 format might be in use by the end of 2004 in devices, services or both.
Bad Format Rep
Yankee Group senior analyst Mike Goodman, who said the different audio formats are basically equivalent in terms of quality, told TechNewsWorld that MP3 is hated by the recording industry, which directly associates the format with piracy because it contains no built-in copyright protection.
Goodman also said that from a player perspective, MP3 is the perfect format for interoperability. However, the analyst indicated Apple's AAC and Microsoft's WMA both have strong driving forces behind them in the form of compatible hardware and an established distribution model.
"It's pretty much an even race," Goodman said. "A larger hurdle [for format acceptance] will be getting people to look at services not just as another way, but as a better way to get music."
Too Legit To Quit
Although it has a large and loyal following among P2P users and digital-music fans, the holders of the MP3 license reportedly are feeling pressure to compete with other formats used in legitimate services and hardware.
GartnerG2's McGuire said that on the basis of users' past experience with free, online, unprotected MP3 files, there likely will be resistance to adopting any type of copyright control or DRM in the MP3 format.
The analyst added that the fate of the format is tied not only to user acceptance, but also to the reception from content providers.
"It's a development itself, but how it gets implemented, what are the usage rules and level of control?" McGuire said. "That and compatibility are going to be very, very important."