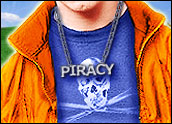 Users of Windows Vista caught running afoul of Microsoft's Windows Genuine Advantage (WGA) software verification program will retain use of the operating system (OS) following the release of Vista's first service pack (SP1) early in 2008, Microsoft announced Tuesday.
Rather than disabling Vista's features, Microsoft will set the OS on nag mode when WGA determines that a user's software is not the genuine article.
"With SP1, we're adjusting the customer experience that differentiates genuine from non-genuine systems in Windows Vista and later in Windows Server," said Michael Sievert, corporate vice president of Windows product marketing.
"Users whose systems are identified as counterfeit will be presented with clear and recurring notices about the status of their system and how to get genuine. They won't lose access to functionality or features, but it will be very clear to them that their copy of Windows Vista is not genuine and they need to take action," he explained.
The new nagging method to be used in Windows Vista is the same way Microsoft chose to deal with counterfeit version of Windows XP when they were detected by WGA.
Fending Off Pirates
Software pirates have become increasingly sophisticated, Sievert noted. Counterfeiters are able to not only produce high-quality fakes, but have improved their distribution systems and expanded their international reach.
Despite pirates' best efforts, Microsoft has made progress in its fight to prevent criminals from reproducing and selling illegal copies of its software. For the past quarter, Microsoft reported a nearly 5 percent revenue growth that the company attributes to declines in piracy.
The software maker credits the change to a combination of legal action against more than 1,000 dealers of counterfeit software, the removal of more than 50,000 "illegal and improper" online software auctions, and its "How to Tell" campaign and anti-piracy-focused educational Web site.
Another factor helping Microsoft cut down on piracy is that Vista is "a lot harder to counterfeit than Windows XP," Sievert pointed out, even as he acknowledged that the company knows "pirates will keep trying."
So, to further stymie software counterfeiters, Microsoft's revamp of the WGA program for Vista will also include targeted steps to disable two known types of counterfeiting exploits employed by pirates. Once Vista SP1 is installed, counterfeiters will no longer be able to use either the OEM BIOS (basic input/output system) or Grace Timer exploits.
Using the OEM BIOS exploit allows pirates to modify system files and the VIOS (Visual Internet Operating System) of the motherboard to mimic a type of product activation performed on factory pre-installed copies of Windows. The Grace Timer exploit takes a different tack, attempting to reset the 30-day "grace time" limit Microsoft allows users between installation of Vista and activation of the operating system. Instead of one month, pirates try to extend the grace period as far into the future as possible, in some cases as far as the year 2099.
Vista Nags? Who Knew?
The change in Microsoft's antipiracy deterrent comes after a year that's seen a rash of problems and issues with Vista and its servers. Perhaps most notably, in August, the WGA system classified some 12,000 XP and Vista users' software as pirated, shutting down their systems. The glitch was attributed to human error.
The affected owners discovered that Microsoft's so-called kill switch had rendered their systems virtually useless, with key features such as the Aero graphical interface, ReadyBoost, Windows Defender, Windows Update and DirectX support deactivated. For some, the problems lasted for days.
"Microsoft has a piracy problem, and they have a right to take steps to stop that piracy problem, but this went too far [because it basically froze the operating system]," said Michael Cherry, lead analyst for Windows and mobile at Directions on Microsoft.
With Vista SP1, after pirated copies of Vista have been detected by WGA, the desktop background will change to black and users will receive repeated notifications that the software is not genuine. Perhaps as part of Microsoft's acknowledgment that PC owners can unwittingly purchase an illegal copy of the software, they will have an opportunity to "get legal" and purchase a normally US$400 version of Windows Vista Ultimate for the reduced price of $200.
"The new plan is much more realistic, because if they make a mistake it isn't so critical to an individual. It's not likely that a person's gonna lose the ability to get work done," Cherry pointed out.
The trade-off that Microsoft makes with this change, however, means the company will have a "much less effective" deterrent, he continued. For some users, the reminders could fade into background noise.
"Windows nags at me every day constantly. Notices from the system tray are just an annoyance that every Windows user has to put up with. After a while, you just become immune to them," he told TechNewsWorld.