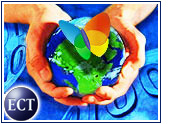 Promising quality improvements and furthering the competition for media players and broadband subscribers, Microsoft's MSN is offering free streaming video in a beta version that will be available to all MSN subscribers in the United States this winter.
The move comes as Microsoft seeks to broaden its MSN and Windows Media 9 audience in the face of broadband competition from longtime rival AOL and media-player pressure from RealNetworks' RealOne, which offers video content for US$9.95 per month. Microsoft is releasing its MSN Video service — which initially will feature NBC and MSNBC news programs — free of charge.
Analysts said Microsoft has the technology to back up its claims of "high quality" and likely will deliver a compelling Internet video experience. However, the true success of the move — to be followed by "a wave of services," such as MSN Premium and MSN Plus premier subscriptions — will depend on the content provided, Jupiter research director Michael Gartenberg told TechNewsWorld.
"News is fine. The only problem is consumers can go to their TV sets and get the same thing," Gartenberg said. "Over time, how they're going to provide meaningful content in this form that the consumer will want to gain access to is the key question."
Free Streaming
MSN said it will offer the service at no charge, thanks to revenue from "unique video advertising services" — 15-second video ads and stationary ads with Web links.
Although Yahoo Platinum and Apple's QuickTime still have followings, the media-player market is dominated by RealNetworks and Windows Media Player, Yankee Group analyst Michael Kelleher told TechNewsWorld.
Kelleher, who indicated MSN might use the free service with advertisements to entice users to pay for premium, ad-free services later on, said MSN Video's free availability could allow Microsoft to build on its share of the market and capture consumers, as it did with the Windows operating system.
"I'd be worried if I was Real," he said.
Gartenberg said it makes sense that the service is free because its content — news, sports, entertainment and other video from NBC News and MSNBC.com — is not something for which MSN could charge consumers. MSN said the winter launch of the service would include "additional content from a wealth of providers," but it did not elaborate.
Quality Control
Still, Gartenberg said Microsoft has the advantage of being both a technology company and a content company with a powerful platform in Windows Media 9.
"Microsoft can deliver some very, very compelling quality over an Internet broadband connection using this technology," he said. "Windows Media 9 is a very good technology to build on."
Kelleher said quality — determined by connection speed and streaming technology — is the most important issue when delivering video over the Internet, adding that unless it is consistent with the television experience, consumers will reject it.
With its Windows Media 9 series technology, MSN promised an instant, always-on streaming experience that effectively eliminates buffering delays and offers playback speeds of up to 300 Kbps.
Breaking from TV
While consumers might want the same type of viewing experience on their computers that they get watching television, analysts said there must be compelling differences to spur broadband video.
Kelleher said providers must "choose content carefully," suggesting they might borrow from the cable television model with a series of defined channel types. However, he also warned against delivering what already exists.
"Video's going to be the next stage, and coming up with content that people can't get elsewhere will be the key," Kelleher said, referring to video-on-demand and practical, how-to programming. "Its prime value is likely to be function rather than entertainment."