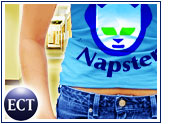 Napster has carried its famous name into the legitimate music download arena, officially launching Napster 2.0 and challenging a sea of Windows competitors, including Apple's sweet-sounding iTunes service that sold 1 million songs to Windows users in its first three days of operation.
Yankee Group senior analyst Mike Goodman told TechNewsWorld that Apple currently has the upper hand with its collection of individual songs and complete albums — priced similarly to Napster 2.0 at about 99 cents per track or US$10 per album.
However, said Goodman, name recognition alone will draw many consumers to Roxio-owned Napster 2.0. Plus, Roxio already has developed alliances with Intel and Samsung.
"They'll certainly get a fair amount of trial," Goodman said of the new Napster. "It's going to be a dogfight between them and Apple for dominance."
Napster Reborn
Calling the Napster name "synonymous with online music and the most beloved brand that existed ever," company spokesperson Seth Oster told TechNewsWorld that Napster 2.0 is much different from the original free peer-to-peer file-sharing application.
Oster listed the site's newfound legality, proper artist compensation, lack of viruses and spyware, and better programming organization and quality as the main differences between Napster 2.0 and the original Napster application.
When asked whether Napster is now an emulation of Apple's successful iTunes service, he said other companies, including Pressplay, Musicnet and Rhapsody, had actually "blazed that trail" for Apple. "iTunes emulates a number of services that broke down barriers — in the [music] industry and technically," Oster said.
Hardware and Margins
Napster, which will offer a choice of 99-cent songs, $10 albums or $10-per-month premium access to 40 commercial-free radio stations, enters a crowded market for PC music downloads.
Yankee's Goodman, who called Roxio's acquisition of the Napster name "brilliant," said one thing that has differentiated Apple's iTunes from the likes of BuyMusic.com, MusicMatch and others is its revenue model, which is based on hardware in the form of iPod sales.
Calling it a reversal to use cheap software sales to sell hardware, Goodman said Apple can take advantage of larger profit margins instead of relying on 99-cent downloads, which he indicated are a break-even proposition at best.
Rivals on Two Levels
However, Oster, who referred to Napster's MP3 player deal with Samsung, argued that Apple's self-admitted use of iTunes as a driver of iPod sales is a disadvantage, saying Apple is a technology company while Napster is a music company.
"Napster and iTunes will compete on the music side, and Napster and iTunes will compete on the hardware side," he said.
Citing Napster 2.0's catalog of a half-million tracks and community features like shared playlists, Oster said Napster will set the standard that other services seek to follow.
Issues of Format, Freedom
Gartner analyst Mike McGuire told TechNewsWorld that Apple might have it easiest when it comes to digital music file formats, which will put retailers to the test as users try to match players and services during the upcoming holiday season.
McGuire also said the legitimate services will only win market share and new users from free, unlicensed services — such as Kazaa and Morpheus — if the pay-for-play services provide smart features, such as the ability to discover and find obscure songs or new genres.
"Those benefits are going to be what makes these things work," he said, adding a warning that companies run the risk of "spinning their wheels trying to convert everybody."