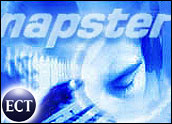 Napster has unveiled its new "To Go" technology, calling it the first, portable music subscription service, and it is backing the effort with a US$30 million multimedia marketing campaign aimed at biting away at Apple's dominance in the music download space.
Napster, which is a legitimate song-swapping service using the outlaw original peer-to-peer (P2P) name, said it will sell subscribers unlimited songs from its catalog for compatible MP3 players — primarily from Creative, Dell and iRiver — for $15 a month.
While industry observers have highlighted mobility and portability of music as one of the main reasons consumers are drawn to unlicensed, free file-sharing services, some indicated Napster's new service did still not mean ownership of music, which is a priority among listeners.
However, Napster and player manufacturer Creative — which recently announced a $100 million marketing investment for its MP3 player — are finally putting some selling power behind their players and services, posing a more significant threat to Apple's position, analysts agreed.
"The campaign is huge," Yankee Group senior analyst Mike Goodman told TechNewsWorld. "It's long overdo for these services, if they want to compete with iPod. We're starting to see a bunch of the WMA [format] players and services commit marketing dollars for multi-media, integrated campaigns."
Mobile Marketing
Napster claimed its new portable subscription service was a first and called it a milestone in digital music that made "costly download-only stores seem antiquated."
The company made the Napster To Go service available in preview form to Windows Media Player (WMP) users last September and released it to consumers this week along with version 3 of the Napster subscription service.
The company took direct aim at Apple and its iPod, which have dominated the market and even come to represent the meaning of digital music for many consumers.
"Napster To Go provides infinitely greater value and is much more exciting than the iTunespay-per-download model," said a statement from Napster Chairman and Chief Executive Officer Chris Gorog, who previously claimed that the company would take market share from Apple in an interview with TechNewsWorld in November 2003.
Holding Music Hostage
Yankee Group's Goodman said he believed there was potential for subscription downloads, but added that too many providers are positioning it as a service, which means people do not get to keep the music.
"It's a feature on an existing subscription service," Goodman said of Napster To Go. "Giving meportability is a great enhancement for a future I don't own."
Eliot van Buskirk, technology editor of MP3.com, told TechNewsWorld the lack-of-ownership limitations of the Napster To Go service — which relies on a hardware-based, digital clock that denies access after a certain period — could hinder its success.
"Consumers are already freaked out about [digital rights management] restrictions, and rightfully so," he said. "So there could be some resistance, with many feeling that they're holding your music hostage."
The iPod Lens
Napster also announced its intention to kickoff a $30 million marketing onslaught complete with a Super Bowl television ad, logo, and partnerships with retailer Best Buy and others.
Van Buskirk believes the combined marketing push from Napster and Creative, which are working together on the Napster To Go service, might have an impact on Apple's dominance.
"They could really drive a wedge in there," he said.
However, both van Buskirk and Goodman admitted that there has not yet been any digital music marketing effort that has come close to the scope or success of Apple's iPod and iTunes.
"[The competitors] have kind of grown in business, but I think you have to compare to, you have to put it into the lens of the success Apple has had," Goodman said. "Apple owns the digital audio brand at this point."