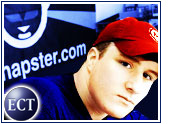 The Napster song-swapping service has undergone a transformation from hotbed for piracy to legitimate peer-to-peer service in a large pack of formidable competitors.
Napster 2.0, to be officially launched October 29th by Roxio, will provide legal dollar-per-song access to a catalogue of 500,000 titles. However, the new version of the once rebellious and free P2P service represents a marked change from the original and has even been the subject of a scornful parody that complains, "Napster was only cool because it was free."
"This is a very, very different Napster than the predecessors that bore the same name," Jupiter research director Michael Gartenberg told TechNewsWorld. "It's different in every possible way you can imagine," he added, referring to the paid and subscription aspects of the new service.
New Napster with Same Name
The current Napster 2.0 owners brag about an elegant user interface that will let users quickly search for and purchase music, burn CDs and transfer music to portable devices for 99 cents per song or $9.95 per album.
There is no charge for the Napster 2.0 software that will be available for download later this month and will allow such freebies as 30-second music clips, decades of Billboard charts and an online magazine.
Original Napster creator and new Napster advisor Shawn Fanning offered his blessing to the service, saying Napster 2.0 "has community features and tools for discovering new music that were important parts of the original Napster experience."
However, a parody site of the new Napster service decries the business model as a continuation of record label-controlled distribution that inflates prices and slights artists.
"If you slap an endearing brand on a landfill, it still stinks," the parody site said.
P2P Growing Up
Still, Jupiter's Gartenberg said the changes in the new Napster service show that the market for online music is maturing.
With an onslaught of legitimate services now available, including RealNetworks' Rhapsody, BuyMusic.com, MusicNet and MusicNow, and additional services in the works from major technology companies such as Dell, Amazon and Sony, Gartenberg said a number of different business models are likely to emerge.
"The market's going to be very, very interesting to watch, and the big push is going to be in 2004," he said, adding that it is unlikely any of the players will emerge as dominant.
Baited by Apple
Nevertheless, with name recognition and more liberal rules on recording and transferring to portable devices, Napster is likely to play well in the space, according to Gartenberg.
Like many of the newer legitimate file-swapping services, Napster 2.0 emulates Apple's iTunes service, which has been extremely successful given the relatively small market share of Apple computers. Still, the industry is anticipating a version of iTunes for Windows as soon as next week, and Gartenberg said if Apple can deliver the same thing for Windows users that it did for Mac users, iTunes for Windows will be successful.
"What Apple demonstrated is that the market is willing to pay for music," Gartenberg said. "As long as the price is reasonable and there are limitations on restrictions, people will tolerate some level of digital rights. Where there is no market-dominating player is on the biggest platform — Windows. That's where the action's going to be."
Copyright Over Code
While the original Napster was known for its file-sharing technology and free downloads that attracted more than 50 million users three years ago, Napster 2.0 is being launched at a time when file sharing is less about technology and more about deals with record labels, GartnerG2 analyst Mike McGuire told TechNewsWorld.
"These license agreements are incredibly important and are also Byzantine," McGuire said, adding that the worldwide audience represents another challenge for legitimate services.
"The next level of incredible complexity is the licensing of these for the international market," he said.